Trade-In a Vehicle

Close

As one of the largest classic car dealerships in the world, we are always look for new inventory. If you are interested in trading your high quality car for one of ours, simply fill out this form and click Submit.

Rear End

Brakes

Underside

Please Note: All sales transactions involving trade-in vehicles are based on Certified pricing with a Seal of Approval service level.

TCO

Close

Total Cost of Ownership Calculator

Your Price

$69,900

Select Shipping Option

This item can be collected at

Select Shipping Container Options:

Dedicated 20 ft Container
Shared 40ft Container

Select Destination Port:
Camaro Pro Touring Convertible ZZ502/502 HP 5 Speed
Stock #

132561

Body Style

Convertible

Engine

502 V8

Exterior Color

Yellow

Interior Color

Charcoal

Miles

877
$69,900
A

B

C

D

E

F

G

H

I

J

K

L

M

N

O

P

Q

R

S

T

U

V

W

X

Y

Z
Did You Know
?
1970 marked the first time in the four-year history of the Camaro that a convertible option was not offered.
Test your car knowledge!
See Also
these cars might interest you
See Comparable
recent sales
View hi-res image
Play Slideshow
Previous
Next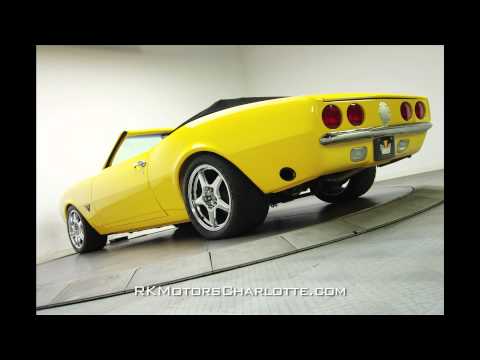 Multiple award winner
Tremec 3550 5-spd manual
Documented build
Polished Art Morrison chassis
Currie 9 inch / 3.25 gears
ZZ 502 Crate Motor
Wilwood four-wheel discs
Here's another wild car for all of you Pro Touring fans out there! This custom 1968 Camaro was a Goodguys and Popular Hot Rodding Street Machine of The Year finalist. Later that year, it was voted a ten best super rod by Super Rod magazine and featured in numerous publications. Today it combines top notch bodywork and a custom frame with a killer interior and a GM Performance Parts Ram Jet ZZ502 big block for out of this world good looks and an unforgettable driving experience.
The outside of this 1968 Pro Touring Camaro took over a year and 2600 hours of labor and custom fabrication to complete. Once all that restoration and custom work was done, the laser straight body was painted in a bright yellow hue that really highlights the cars superb panel fitment and excellent finish work. Up front, the car was originally designed with a custom fascia that included four round headlights, and a traditional Chevrolet grille and chrome cross bar. Recently, the car was fitted with a more traditional looking modified '68 Camaro RS front clip that, interestingly enough, gives it a more modern and fitting appearance. Below the cars black grille and hidden headlights, small round fog lights are housed in a custom lower valence that, when combined with a code D80 front spoiler, presents a pure 60s rally car appearance. Behind the grille, a traditional cowl induction hood incorporates a custom Mitsubishi Eclipse hood bulge and custom cut rear edge. On top of the hood bulge, a black painted stripe fades into yellow and black checkers, includes custom painted silver and red "502 Injected" stenciling and is outlined by a silver pin stripe. At the back of the hood, the abundance of stainless usually found around the windows of these car has been traded for a custom cowl with a modern curved windshield and a single center mounted windshield wiper. Behind that windshield, a custom black cloth convertible top is trimmed in chrome and sits in front of a trunk mounted 3rd brake light. All factory exterior ornamentation was stripped off in favor of the simple look of modern C5 Corvette emblems that are mounted to the front fenders just behind the front tires. On the doors, chrome Plymouth Prowler door handles add a new twist to a traditional look, and behind the rear wheels round exhaust outlets are incorporated into the rear fenders. At the back of the car, C5 Corvette tail lights occupy a custom rear valence on either side of an aluminum Audi TT gas cap. Below that gas cap, a custom shortened chrome rear bumper sits above custom reverse lights that have been integrated into the cars roll pan. Aluminum 17×10 and 17×11.5 C4 Corvette ZR-1 wheels have been dipped in show winning chrome and wear 275/40 front and 315/35 rear Goodyear Eagle GS-C performance radials that provide an aggressive stance.
Pop the completely finished custom hood and take a look at the GM Performance Parts ZZ502 Ram Jet crate engine which is good for 540 horsepower and enough torque to make this car scary fast. On top of the engine, air is forced into a dual plenum performance intake manifold where it mixes with fuel supplied by an Arizona Speed and Marine tuned port fuel injection system. Below the intake, a forged steel crank turns forged steel connecting rods and forged aluminum pistons to keep the power coming, and at the back of the intake an HEI distributor sends spark through yellow high performance plug wires. At the front of the motor, a serpentine system spins a fresh belt to keep everything turning smoothly, and at the sides of the motor ceramic coated Hooker Super Competition headers send exhaust into a stainless true dual exhaust system. The appearance of this engine bay is just as impressive as the engine itself. The cars firewall is painted yellow and capped in stainless, and contrasts well against custom matte black inner fenders. On top of the motor, the massive intake has been body matched, and the valve covers, distributor cover and cool air intake feature a nice metallic shade of silver and Chevrolet crossed flags. Below the valve covers, polished wire looms are detailed in yellow and complement a chrome alternator, chrome flex hoses, a chrome Vintage Air AC compressor and a Be Cool aluminum radiator.
When you have a powerful, award winning engine like the ZZ502 Ram Jet under the hood, you're going to need some pretty serious hardware to back it up. Sitting behind the motor is a Tremec 3550 5-speed manual transmission that is outfitted with a Hayes performance clutch and wears a Lakewood bell housing. Power flows from that transmission to an unbreakable Currie nine inch rear end with a Strange aluminum center section, Strange axles and snappy but street friendly 3.25 gears. Holding all of that speed inducing goodness off of the ground is a powder coated Art Morrison rectangular tubed chassis that, along with the suspension and rear axle has been fully polished and detailed. At each corner, you'll find Aldan coil over shocks that improve handling, and Wilwood power disc brakes that improve stopping. Up front, a manual rack and pinion steering system is bolted to and a traditional front double A-arm suspension with tubular control arms and out back, the car retains a factory four link set up. A three inch stainless steel true dual exhaust system is held in place by the frame and runs through polished Borla mufflers to exit out of custom cut holes in the car's rear quarter panels. The floor pans are rock solid and feature the same polished yellow paint as the body, and even the details were done right with a stainless fuel tank feeding stainless fuel lines and stainless brake lines running to all four calipers.
Slip inside and have a seat on C5 Corvette charcoal leather buckets that feel much nicer than anything from 1968. In front of those seats, a custom fabricated all steel dash is painted yellow to match the cars body and features silver inserts that match the car's engine components. Inside the driver's side of that dash you'll find Autometer gauges that are angled toward the driver, custom chrome switches for the lights and wiper and attractive machined aluminum controls for the cars Vintage Air climate control system. On the passenger's side of the dash, the cars glove box has given way to a small monitor for the trunk mounted DVD player that, along with the audio system, plays through small and large speakers housed on the door panels. Those custom three piece door panels flow up and back from the dash and feature a body matched top piece, a leather center piece with yellow and black checkered flags and a carpeted lower piece. In the middle of the car, a unique dash vent sits above a custom fabricated steel console that is painted yellow to match the body and features a Sony AM/FM/CD player, a custom booted Hurst shifter, buttons for the fog lights, power doors, power door locks, power windows and a heat and air conditioning vent for rear passengers. Behind that custom console, two more leather buckets are divided by a smaller console that features the same black and yellow checker motif as the car's hood scoop and a silver backed vintage Corvette emblem. Rear door panels continue the theme of body matched top panels over leather mid sections and feature built in custom arm rests. The driver is connected to the car through a polished aluminum Budnik tilt steering wheel that sits on a body matched column, and two point RCI racing belts that add both style and safety. Dip your head into the power trunk and you'll find the same nice dark gray carpet that covers the floor of the interior and a custom box that houses a Sony Xplod 10 disc CD changer, a DVD player and a huge Alpine amp.
Documentation for this car includes a binder with both restoration pictures and pictures of the top and bottom of the car when it was completed and a copy of the Super Rod magazine in which the car was featured.
Cool looking, comfortable and devastatingly fast this 1968 Pro Touring Camaro is a highly custom car that is executed so well you just have to stop and stare. It's the perfect ride for anyone who wants a high voltage street stormer for about half the cost and half the build time of doing it themselves. If you're in the market for a car with unbeatable good looks, a comfortable interior, modern handling and power that never stops, call us today!
Basic
Year

1968

Make

Chevrolet

Secondary Make

n/a

Model Name

Camaro

Secondary Model

n/a

Vehicle Type

Passenger Car

Hobby Segment

Pro-Touring

Mileage

877
Engine / Transmission
Engine Type

Gasoline

Engine Size

502 V8

Engine Number

n/a

Heads

n/a

Fuel Specification

n/a

Fuel Delivery System Type

n/a

Transmission Type

5 Speed Manual

Transmission Spec

Tremec 3550

Transmission Number

n/a
Misc
Entertainment System Type

n/a

Battery Location

Trunk

Battery Shut Off

n/a

Battery Charger

n/a

Power Steering

No

Air Conditioning

Yes
Interior
Interior Color

Charcoal

Seating Type

Bucket

Seat Material

Leather

Shifter Type

Floor

Center Console

Yes
Body
Body Style

Convertible

Doors

2

Safe Body Color

Yellow

Paint Type

n/a

Stripes

Yes
Chassis
Front Suspension Type

Double A-arm

Rear Suspension Type

4-Link

Axle Specification

Ford 9" 3.25 Traction-Lok

Front Wheel Specification

17x10"

Rear Wheel Specification

17x11.5"

Front Tire Specification

275/40ZR17

Rear Tire Specification

315/35ZR17

Front Brakes Specification

Power Disc

Rear Brakes Specification

Power Disc

Spare

n/a

Exhaust Type

Dual Exhaust

Muffler Type

Borla
History
Restoration Status

Restored

Mileage Since Restoration

n/a

Awards Summary

Goodguys and Popular Hot Rodding, Street Machine of the year finalist – 2001

Historical Documents Summary

n/a
Contact Us Regarding this Vehicle
Call Us
704.596.5211
704.596.5980