Trade-In a Vehicle

Close

As one of the largest classic car dealerships in the world, we are always look for new inventory. If you are interested in trading your high quality car for one of ours, simply fill out this form and click Submit.

Rear End

Brakes

Underside

Please Note: All sales transactions involving trade-in vehicles are based on Certified pricing with a Seal of Approval service level.

TCO

Close

Total Cost of Ownership Calculator

Your Price

$199,900

Select Shipping Option

This item can be collected at

Select Shipping Container Options:

Dedicated 20 ft Container
Shared 40ft Container

Select Destination Port:
1967
Plymouth Belvedere GTX
Restored 1 of 7 Plymouth GTX HEMI 4 Speed Convertible
Stock #

132610

Body Style

Convertible

Engine

426 HEMI V8

Exterior Color

Yellow

Interior Color

Black

Miles

30413
$199,900
A

B

C

D

E

F

G

H

I

J

K

L

M

N

O

P

Q

R

S

T

U

V

W

X

Y

Z
Did You Know
?
1970 marked the first time in the four-year history of the Camaro that a convertible option was not offered.
Test your car knowledge!
See Also
these cars might interest you
See Comparable
recent sales
View hi-res image
Play Slideshow
Previous
Next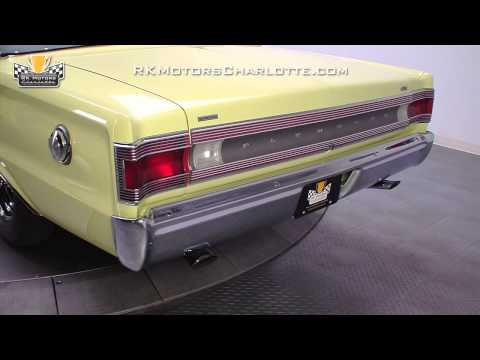 1 of 7 convertibles
A833 4-speed manual
Muscle Car Review feature
Sure Grip/ 3.54 gears
426 Hemi V8
Extensive documentation
Ever have one of those moments when you find a spectacular muscle car that seems too good to be true? The 'rarest of the rare' which has survived almost 50 years of vehicle downsizing trends, fuel thirsty gearheads and stoplight fisticuffs? Well, you don't have to worry about getting pinched back to reality this time because this fully restored 1967 Plymouth Belvedere GTX convertible is a REAL DEAL, 426 Hemi 4-speed car! Not only is it an extremely hard to find Hemi GTX, it's also one of only SEVEN Hemi powered 4-speed GTX convertibles to ever roll off of Ma Mopar's assembly line. With impeccable documentation, a major feature in Muscle Car Review and a long stint as a centerpiece of well-known Michigan Mopar collector Harold Sullivan's legendary garage, it is by far one of the nicest and most exclusive Plymouths on the planet.
According to the Chrysler Historical Services documents included with the sale, this super rare Belvedere GTX left Chrysler's St. Louis, Missouri assembly plant in April of 1967 on its way to Hess Sales and Service in Tell City, Indiana. And, according to the owner history included with the sale, the initial owner kept the car for seven years before it began a Midwest to east coast journey that would eventually end up at RK Motors Charlotte. Clean and ready to show tomorrow, it has obviously benefitted from a very extensive frame off restoration at some point in the not too distant past; but to ensure everything is in spectacular working order, The RKM Performance Center spent 60 days fine tuning the big Hemi and getting everything into tip-top mechanical shape. In case you don't know, RKM Performance Center's restoration shop is probably the BEST place a car like this could end up because we have performed two of the most exhaustive and historically accurate ground up concours GTX restorations on two exceptionally rare 1967 Plymouth GTX HEMI cars. Our award winning, magazine featured WW1 white automatic 1967 GTX Hemi sold for $140K (http://www.rkmotorscharlotte.com/inventory/1967-Plymouth-Belvedere-GTX/132566) and our BB1 black 4-speed 1967 GTX Hemi sold for $160K just last month (http://www.rkmotorscharlotte.com/inventory/1967-Plymouth-Belvedere-GTX/132685).
Before we go any further, I'll authenticate the car by breaking down both its fender tag and major features listed in Galen Govier's assessment of the original broadcast sheet.
FENDER TAG:
RS – Plymouth GTX
27 – Convertible
73 – 426 dual 4-barrel 425 horsepower Hemi
3 – A833 4-speed manual with an Inland shifter
48 – 7.75×14 Red Streak tires
5 – Five tires (includes the spare)
420 – Scheduled for production on Thursday April 20th, 1967
02016 – Plymouth shipping order number
1 – Drip rail mouldings
A6 – 9.75 inch Dana 60 rear end with 3.54 gears
X8 – Sure Grip axle
TP – Premium trim grade
R6 – Vinyl bucket front seats
MX – Black interior
PR – Bright Yellow roof paint
NR – Bright Yellow body paint
T1 – Mono-tone paint style
UB – Black upper door frames
B – No buffed paint
S – No accent stripes
ABC Options:
A1 – Heavy duty 26 inch radiator
D9 – Front disc brakes
F5 – GTX package
R1 – AM radio
T7 – Console mounted tachometer
X2 – Tinted windshield
Y2 – White convertible top
abc Options:
a6 – Console
b4 – Bucket seats
g0 – Body belt mouldings
j4 – Body sill mouldings
u1 – Sold car order
BROADCAST SHEET:
Standard Equipment:
Front heater and defroster
Outside manual left-hand chrome mirror
Three spoke steering wheel with a chrome horn ring
Variable speed wipers
Maximum cooling package
37 amp alternator
Heavy duty shock absorbers
Optional Equipment:
18 – B-body 426 Hemi 4-speed stub frame
48 – 7.75×14 red sidewall tires
71 – 426 Hemi engine distributor
73 – 426 dual 4-barrel 425 horsepower Hemi
302 – White convertible top
365 – Belvedere GTX special body style
393 – 4-speed manual transmission
406 – 9.75 inch axle with 3.54 gears
408 – Sure Grip
421 – Transaudio AM radio
451 – Power brakes
456 – Power steering
479 – Front disc brakes and 10 inch rear drum brakes
486 – Console
487 – Cigarette lighter
509 – Glove box lock
511 – Map and courtesy light
522 – Tinted windshield
529 – Wheel lip mouldings
540 – Belt line mouldings
544 – Body sill mouldings
564 – Bucket seats
565 – Rear armrest and ashtray
577 – Console mounted tachometer
580 – Chrome Magnum 500 wheels
626 – 70 amp heavy duty red top battery
648 – Hemi suspension
691 – Dealer stock order
When you're restoring a car of this caliber to the level you see here, you have to start with an unmolested, clean body. That way, reproduction parts can be used only when necessary and the car retains as much of its authentic factory fresh feel as possible. During this GTXs complete frame-off restoration, new high quality quarter panels were applied and, along with the cars original body panels, sanded to a smooth, exceptional surface. Then, a thick coat of primer was sprayed on, allowed days to cure, and worked free of any defects that might prevent a better-than-showroom foundation. Once the primer was completely dry and defect free, an impressive coat of correct Chrysler code R Yellow was professionally applied and sealed with a tough, glossy clearcoat shell. The result is one arrow-straight Plymouth that has no gremlins, no thin spots and no short cuts what so ever. Fit and finish is worlds above what originally came out of Chrysler's factory 44 years ago; and the car is an absolutely stunning show piece which catches the light perfectly in our RK Motors Charlotte photo booth.
Taking a lesson in style and brand awareness from the likes Ford, Chevrolet and Pontiac, Plymouth outfitted the mighty 1967 GTX with some hot styling cues which better differentiated it from the divisions more plebian offerings. At the front of the car, a GTX exclusive bright stainless grille holds a traditional red, white and blue centerpiece between four halogen headlights. Below that grille, a pristine body-width chrome bumper displays re-located square marker lights, and above that grille a black inlayed "Plymouth" script sprawls beneath a centered "426" hood ornament. Behind that ornament, GTX exclusive chrome trimmed hood scoops sit in front of correct gray 3-speed windshield wipers and a correctly tinted like-new windshield. At the top of that windshield, pristine stainless trim attaches a great looking correct white top in front of a straight and flat trunk which advertises "Hemi and "GTX" to lesser stoplight warriors. At the sides of the car, pristine, dent free rocker trim runs below square chrome door handles to like-new stainless wheel well trim, and a GTX exclusive 'pit stop' fuel filler adds a little race car flair. On the front fenders "Belvedere GTX" emblems perfectly complement subtle "Hemi" badges, and a traditional passenger's side gold pentastar markets to any curious sidewalk dwellers. At the back of the car, GTX exclusive concave stainless trunk trim aligns perfectly with clear, factory taillights, and a second showroom fresh chrome bumper hangs above factory correct stainless exhaust tips.
Under this GTXs hood, you'll find a 1966 model 426 cubic inch Hemi that produces 425 horsepower and 470 lb./ft. of torque. Nicknamed the 'elephant motor' because of its large dimensions and heavy weight, Chryslers 'street' Hemi was derived from specially developed race engines that would prove to be lethal on NASCAR tracks and NHRA drag strips across the country. At the top of the block, two correct 4-barrel carburetors breathe through a mirror-like chrome air cleaner which wears correct Mopar decals. Below those carburetors, a spotless 'Hemi Orange' block wears correctly restored wrinkle finish valve covers and restored original factory exhaust manifolds. At the front of the motor, reproduction belts spin a correct 37 amp alternator above a correct fan and a Hemi-exclusive rebuilt power steering pump. Fire is supplied by reproduction wires, a reproduction coil and a correct distributor, and cooling is provided by a correct 26 inch heavy duty radiator with a correct Hemi-exclusive fan shroud. This is one of the finest detailed Hemis on the planet! Refocus your eyes on the rest of the engine compartment and you'll find a correct reproduction red top battery, correct hoses and clamps, restored horns, a 1967 GTX exclusive washer fluid bottle and a factory fresh brake booster. The hood is secured with original hood latch hardware, and the entire engine bay is coated from top to bottom in the same excellent looking code R yellow as the car's exterior panels.
Take one look under this pristine GTX and you'll find an undercarriage that has been restored to the same exacting standards as the car's engine bay. Factory correct overspray highlights exceptionally clean floorpans that likely haven't seen much daylight since the cars restoration. Behind the engine, an original A833 4-speed manual transmission sends power through a pristine driveshaft to an original Dana 60 Track Pak rear end. Inside that rear end, a factory correct Sure Grip differential houses tall Hemi-exclusive 3.54 gears, and on the outside of that rear end, correct chalk marks and maintenance tags add authenticity. At the front of the car, an original K-frame engine cradle and skid plate show very few signs of impact and a correct factory sway bar adds strength to the cars rebuilt torsion bar suspension. At the back of the car, correct firm ride shocks augment correct six leaf springs in front of a new stainless fuel tank that sends fuel through new stainless fuel lines. Braking comes courtesy of heavy duty power front discs and power rear drums, and exhaust is handled by a new mandrel bent system which sends spent gases into an H-pipe crossover and two factory replacement mufflers. The big block power is put to the ground through 14 inch correct chrome Magnum 500 wheels that wear vintage looking 7.75×14 Firestone deluxe champion tires.
Open this GTX's solid doors and you'll find one of the coolest interiors ever bolted behind a big block Hemi engine. Billed as the 'Gentleman's muscle car' and finished in correct P6X trim, it brings a real sense of class to a car with a solemn and brutish nature. In front of the driver, the original rebuilt instrument cluster sits inside of a slick re-painted dash that's capped by a supple and pliable dash pad. Below that cluster, like-new dash knobs sit beside a correct Plymouth Transaudio AM radio that's centered within great looking stainless trim. Below the dash, an optional console holds Plymouth's controversial, but equally cool canted tachometer in front of a correct Inland shifter and what seems like a mile finned chrome trim. Below the console, new black carpet is protected by yellow stitched GTX floor mats, and at the sides of the console, fully restored saddle-grain vinyl seats face chrome trimmed foot pedals and a sweet looking chrome ringed steering wheel that features a correct black rim. New door panels carry stainless accents and chrome door handles to a brand new black convertible cowl that sits over a fully restored trunk. Inside that trunk, a new matt divides a correct bumper jack and fifth chrome Magnum 500 wheel and spare tire. From the blinding stainless trim, to the crystal clear courtesy lamps, this is a no-excuses, no holds barred restored interior.
As you might imagine, the documentation included with this car is both significant and extensive. We have copies of the original broadcast sheet, a complete Galen Govier breakdown of that broadcast sheet, the car's fender tag and VIN, Chrysler Historical Services paperwork, an owner history which includes the name of the car's original owner and pictures of when the car was brand new, a copy of the Muscle Car Review in which the car was featured and a cool Hemi muscle car book.
This 1967 Plymouth GTX Hemi convertible is a text book example of a world class, no excuses muscle car. Exceptionally rare and incredibly documented, it's a near flawless Mopar centerpiece that is the perfect investment for any collector who wants to own one of the finest classic cars on the planet.
Basic
Year

1967

Make

Plymouth

Secondary Make

n/a

Model Name

Belvedere

Secondary Model

GTX

Vehicle Type

Passenger Car

Hobby Segment

Muscle Car

Mileage

30413
Engine / Transmission
Engine Type

Gasoline

Engine Size

426 HEMI V8

Engine Number

n/a

Heads

n/a

Fuel Specification

n/a

Fuel Delivery System Type

Dual 4 Barrel

Transmission Type

4 Speed Manual

Transmission Spec

A833

Transmission Number

n/a
Misc
Entertainment System Type

AM Radio

Battery Location

LH Engine Compartment

Battery Shut Off

n/a

Battery Charger

n/a

Power Steering

Yes

Air Conditioning

No
Interior
Interior Color

Black

Seating Type

Bucket

Seat Material

Vinyl

Shifter Type

Floor

Center Console

Yes
Body
Body Style

Convertible

Doors

2

Safe Body Color

Yellow

Paint Type

n/a

Stripes

No
Chassis
Front Suspension Type

Torsion bar

Rear Suspension Type

Leaf Spring

Axle Specification

Dana 60

Front Wheel Specification

n/a

Rear Wheel Specification

n/a

Front Tire Specification

7.75-14

Rear Tire Specification

7.75-14

Front Brakes Specification

Power Disc

Rear Brakes Specification

Power Drum

Spare

7.75X14

Exhaust Type

Dual Exhaust

Muffler Type

Factory Replacement
History
Restoration Status

n/a

Mileage Since Restoration

n/a

Awards Summary

n/a

Historical Documents Summary

n/a
Contact Us Regarding this Vehicle
Call Us
704.596.5211
704.596.5980