Trade-In a Vehicle

Close

As one of the largest classic car dealerships in the world, we are always look for new inventory. If you are interested in trading your high quality car for one of ours, simply fill out this form and click Submit.

Rear End

Brakes

Underside

Please Note: All sales transactions involving trade-in vehicles are based on Certified pricing with a Seal of Approval service level.

TCO

Close

Total Cost of Ownership Calculator

Your Price

$349,900

Select Shipping Option

This item can be collected at

Select Shipping Container Options:

Dedicated 20 ft Container
Shared 40ft Container

Select Destination Port:
1969
Pontiac Firebird Trans Am
Restored Numbers Matching Trans Am Ram Air IV 4 Speed
Stock #

132913

Body Style

Hardtop

Engine

400 Ram Air IV V8

Exterior Color

Cameo Ivory

Interior Color

Blue

Miles

51445
$349,900
A

B

C

D

E

F

G

H

I

J

K

L

M

N

O

P

Q

R

S

T

U

V

W

X

Y

Z
Did You Know
?
1970 marked the first time in the four-year history of the Camaro that a convertible option was not offered.
Test your car knowledge!
See Also
these cars might interest you
See Comparable
recent sales
View hi-res image
Play Slideshow
Previous
Next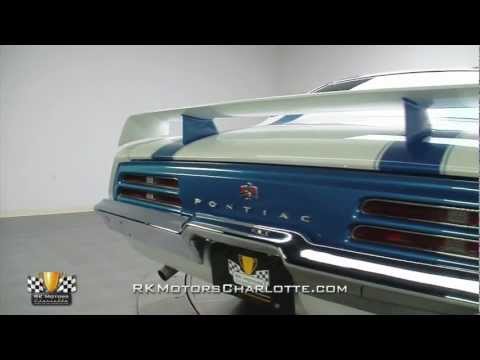 Original L67 Pontiac 400 V8 that's been professionally rebuilt to AMA specifications by Dan Jensen
Original ride and handling suspension that's complete with power steering and power front disc brakes
Original Ram Air IV hood
Fully documented from its original dealership papers to its current owner.
Original Muncie M-21 close ratio 4-speed transmission that's equipped with a Centerforce clutch and billet flywheel
Original 14 inch Rally II wheels
Mostly original Blue vinyl interior
Original 10 bolt Posi-traction rear end that's complete with a Safe-T-Track differential and 3.90 gears
Original west coast sheet metal with correct Cameo White and Tyrol Blue exterior paint
The beneficiary of a highly detailed 18 month rotisserie restoration
Let's face it, as car enthusiasts, we're ALL nostalgic people; and for every one of us, there's an unforgettable experience or monumental event that sparked a lifelong passion. Whether it's a car that's disappeared through the march of time, a character in a high octane movie plot that we admired as kids, or a random neighbor's pride and joy that was branded on our psyche, somehow we became the 1% of consumers who purchase a car based on how we feel. When we walk into a showroom, there's no lame 'practicality' discussion or 'fuel economy' banter, we buy the fastest, meanest, gnarliest machine we can find; and you better believe we plan to build it to the point where everyone within a two block radius knows they're about to witness something unforgettable. For many, that desire to drive the ultimate car translates to the height of the muscle car era and its best combination of performance and visual sizzle: Pontiac's legendary Trans Am. As one of only 46 4-speed Ram Air IV Trans Ams produced for the 1969 model year, this fully restored, 51,445 mile time capsule features all original west coast sheetmetal, a complete numbers matching drivetrain, a highly original interior and full documentation that dates all the way back to the its dealership checklist. If you're a diehard Pontiac fan who's searching for the ultimate Trans Am, or a discerning classic car collector who's looking for some spectacular, investment grade metal, this race-bred muscle car is the opportunity of a lifetime!
Since this elite Firebird is a well-known magazine feature car which comes with a stack of documentation that includes both original dealership forms and modern Pontiac Historical Services paperwork, there's really no question it's a real deal Trans Am Ram Air IV. But I'm a numbers guy, and I know most of you are too, so I'll go ahead and decode both its VIN and cowl tag just for the sake of authenticity.
VIN: 223379N105529
2: Pontiac
2: Firebird
337: 2-door coupe, all engines
9: 1969 model year
N: Assembled at GM's Norwood, Ohio manufacturing facility
1: 8-cylinder engine
05529: Production sequence number
COWL TAG:
69: 1969 model year
2: Pontiac
2: Firebird
337: 2-door coupe
NOR: Assembled at GM's Norwood, Ohio manufacturing facility
506019: Production sequence number
200: Blue interior with standard bucket seats
50: Cameo White lower exterior paint
50: Cameo White upper exterior paint
061: Assembled during the first week of June, 1969
D80: Trans Am exclusive rear spoiler code
According to the Pontiac Historical Services documentation included with the sale of this badass tin indian pony car, it was assembled at GM's Norwood Ohio manufacturing facility in June of 1969 and shipped to Bud Meadows Pontiac in Seattle, Washington on July 21st of that same year. After serving as top-notch showroom eye candy for exactly two months, its papers were signed by Seattle resident Carlos Palencia and it began a 36 year run as an immaculately maintained, one owner west coast muscle car. When the second and current owner, an avid Firebird collector, took its keys in the summer of 2005, he inherited a 95% complete survivor that was probably one of the most authentic Trans Am Ram Air IVs in the world. So, instead of polishing the car into an over-restored beauty queen, he documented every square inch of its body and initiated a highly accurate 18 month rotisserie restoration which used as many original parts as possible. Today, with an all original body that's battle dressed in a slick layer of correct GM code 50 Cameo White basecoat, correctly re-stenciled Tyrol Blue racing stripes and correctly placed Trans Am call-outs, it stands proud as a highly desirable example of a major milestone in Pontiac performance history.
Originally envisioned as an engineering piece that would show the world what Pontiac could do on the race track, the 1969 Trans Am was basically an engine and appearance package by the time it made the leap from concept to production. Much of Pontiac's top brass openly derided the car because they felt the GTO Judge was a better answer to the same question and the 1970 Trans Am, which was said to be a whole new league of pony car, was just around the corner. Little did those folks know that 60s Pontiac folklore would combine with the limited sales of the '69 model to kick start a legacy of visual excitement that would last over three decades! At the front of this pristine 'bird, a new for '69 Endura nose piece hangs Trans Am specific twin black grilles, which are complete with a silver arrowhead and a white inlayed "Pontiac" script, between four new old stock T3 headlights. Below those headlights, the cars sculpted front valence perfectly aligns ornate parking lights above a Trans Am specific chin spoiler. And above those headlights, the car's impossible to find Ram Air IV hood props long Ram Air scoops in front of original stainless windshield wipers. At the sides of the car, expressive 'coke bottle' character lines are highlighted by a standard chrome driver's mirror, good looking stainless wheel well and rocker moldings, and traditional chrome GM door handles. And small blue "Trans Am" call-outs combine with Trans Am specific simulated air extractors and highly detailed Firebird logo marker lights to add just the right amount of texture to the bright white paint. At the top of the car, original date coded glass is framed by what appears to be original stainless trim and original chrome drip rails. And at the back of the car, a Trans Am specific 60 inch decklid spoiler props a large horizontal "Trans Am" call-out above a Tyrol Blue rear valence, clear, pyramid style tail lights, highly detailed Firebird and "Pontiac" emblems and a great looking body-width chrome bumper.
Lift the car's ducted steel hood and you'll find an original L67 Pontiac 400 V8 which wears a correct 9792506 casting number, a February (B) 26th (26) of 1969 (9) casting date, a correct 105529 partial VIN and an L67 specific "WH" stamp. When the first Ram Air IV rolled out of the factory, Pontiac brass could hardly keep a straight face as they announced it would produce 'only' 345 horsepower. And rightfully so, because after this car's current owner had its stock engine blue printed and rebuilt to AMA specifications by highly regarded Pontiac expert Dan Jensen, it hit the dyno with a whopping 438 horsepower and 452 lb./ft. of torque! At the top of the engine, a fully functional induction system feeds roughly 50 degree air into a correct 7029273 Rochester Quadrajet 4-barrel carburetor which is bolted to an original Winter aluminum intake. That intake sends a high octane air/fuel mixture into original 722 round port cylinder heads which, with the help of high performance rocker arms, a bigger cam, modern scat connecting rods and an Arma-steel crankshaft, provide the kind of combustion that makes this Trans Am one of the nastiest muscle cars on the road. Spark for that combustion is provided by a factory 1111941 points distributor which sends power from a modern Crane coil and ignition module to date-coded Packard TV R Suppression wires. Exhaust from that combustion is handled by original long branch exhaust manifolds which roar into a stainless true dual exhaust system. And heat from that combustion is controlled by a leak-free radiator which is hooked to reproduction GM hoses via original tower clamps and an original plastic fan shroud that features original factory grease marks. Aesthetically, this Trans Am's highly detailed engine bay is 100% ready for show. The block itself displays a slick coat of correct turquoise paint from its intake to its oil pan; and the fenders, firewall and hood are covered in a combination of smooth GM satin black paint and correct insulation. Niceties such as fresh chrome valve covers, a correct alternator, a tagged Delco Energizer battery, a fresh Delco Moraine brake booster, a high flow oil pump and a full set of decals and chalk marks can be found in all the right places. And one turn of the key instantly produces a confident roar that can only be provided by old school big block Pontiac power!
Take a look underneath the car and you'll find a super straight 43 year old undercarriage and rock solid satin black floor pans which have been accurately restored to their correct factory appearance. Behind the high revving motor, an original Muncie M-21 close ratio 4-speed transmission, which was inspected during the car's restoration and deemed just fine the way it is, wears a Muncie (P) M-21 (B) manufactured January (01) 1st (1) 1969 (9) assembly stamp and a correct 105529 partial VIN. That stalwart transmission sends power from a Centerforce clutch to an original "ZK" 10 bolt rear end that's still equipped with an unmolested Safe-T-Track differential and mountain climbing 3.90 gears. And that solid drivetrain is centered in the cars original front double A-arm and rear leaf spring suspension which, thanks to the standard Y96 ride and handling package, includes stiffer shocks, better springs and a heavy duty front stabilizer bar. At the front of the car, standard N41 power steering provides easy turns and competent handling. At the corners of the car, standard JL2 power front disc and rear drum brakes provide modern stopping ability. And at the center of the car the original, power boosting N10 factory dual exhaust system has been replicated with mandrel bent aluminized pipes, correct resonators and a great sounding transverse muffler. Naturally, all the car's hardware and bushings appear to be in like-new condition. Out back a fresh stainless fuel tank sends go juice through new stainless lines. At the base of the motor, a correct starter spins a Centerforce billet flywheel. And power flows to the pavement through original 14 inch GM Rally II wheels which spin familiar Goodyear Polyglas F70-14 white letter tires around pristine stainless trim rings and awesome "PMD" branded center caps.
Swing open this Trans Am's solid white doors and you'll find a correct GM code 200 blue vinyl interior that's a nice mix of both top notch factory equipment and high quality reproduction pieces. The original standard bucket seats, which were simply re-covered during the restoration, provide comfortably firm support and display no fading or tears. Below those seats, new blue carpet shows minimal wear and has likely been carefully protected by fresh arrowhead branded floor mats since it was installed. Above those seats, a stain-free headliner stretches tightly from the car's new A-pillar trim to its original sail panels. And between those seats, a familiar Hurst shifter still features its factory optioned 'wood' shift knob. At the front of the car, an excellent looking original dash hangs a rare 'stacked' gauge pod, which was added during the restoration, above controls for the heater and an original Delco AM radio. At the sides of the car, original one-piece door panels anchor well-maintained armrests between complete stainless trim and chrome handles for the doors and windows. In front of the driver, the car's original Sport steering wheel spins a wood rim and three satin finished spokes around a vivid "PMD" branded horn button. And behind the cockpit, the car's fully restored trunk props an original spare tire and jack assembly on a correct houndstooth mat. Oh, and by the way, if you're the kind of diehard purist that winced as I was mentioning the car's sparse reproduction parts, you'll be happy to find out that its original gauge cluster and original A-pillar trim are included with the sale.
The sale of this sweet Trans Am includes a stack of documentation which consists of: an original Meadows Pontiac pre-delivery inspection form, an original Meadows Pontiac dealership emblem and license plate frame, the car's original owner's manual, the car's original Pontiac Protect-O-Plate, various vintage registrations from its original owner, Pontiac Historical Services paperwork, Restoration notes and photos which chronicle the car before and during its restoration, a copy of Pontiac Enthusiast magazine in which the car has a four page feature, a copy of Muscle Car Review in which the car has a two page feature, general information about the car and its original/correct parts, an extra set of hood hinges which came from the original owner and, of course, the vintage liquor bottle that was found behind its quarter panel.
Calling this Trans Am a nice car just doesn't do it justice. It's a pristine example of why Pontiac's legacy will always be about muscle cars and motorsports. And with a numbers matching powertrain, a squeaky clean restoration and full documentation, it's a no compromises, race-bred performance halo that provides one lucky car enthusiast with a once in a lifetime opportunity. If you're looking for the ultimate, investment grade Pontiac muscle car, here it is!
Basic
Year

1969

Make

Pontiac

Secondary Make

n/a

Model Name

Firebird

Secondary Model

Trans Am

Vehicle Type

Passenger Car

Hobby Segment

Muscle Car

Mileage

51445
Engine / Transmission
Engine Type

Gasoline

Engine Size

400 Ram Air IV V8

Engine Number

n/a

Heads

Stock

Fuel Specification

94 Octane +

Fuel Delivery System Type

Single 4 Barrel

Transmission Type

4 Speed Manual

Transmission Spec

Muncie M21

Transmission Number

Muncie (P) M-21 (B) manufactured January (01) 1st (1) 1969 (9)
Misc
Entertainment System Type

AM Radio

Battery Location

RH Engine Compartment

Battery Shut Off

None

Battery Charger

None

Power Steering

Yes

Air Conditioning

No
Interior
Interior Color

Blue

Seating Type

Bucket

Seat Material

Vinyl

Shifter Type

Floor

Center Console

No
Body
Body Style

Hardtop

Doors

2

Safe Body Color

Cameo Ivory

Paint Type

n/a

Stripes

Yes
Chassis
Front Suspension Type

Double A-arm

Rear Suspension Type

Leaf Spring

Axle Specification

10 Bolt

Front Wheel Specification

n/a

Rear Wheel Specification

n/a

Front Tire Specification

F70-14

Rear Tire Specification

F70-14

Front Brakes Specification

Power Disc

Rear Brakes Specification

Power Drum

Spare

n/a

Exhaust Type

Dual Exhaust

Muffler Type

Factory Replacement
History
Restoration Status

Restored

Mileage Since Restoration

400

Awards Summary

Not shown nationally. Won regional show.

Historical Documents Summary

PHS documentation, original protecto plate, original Pre-delivery inspection form, original dealership emblem and license plate frame, various previous registrations, before photos, build photos, Pontiac Enthusiast magazine spread (4pgs), Muscle Car Review spread (2 pgs)
Contact Us Regarding this Vehicle
Call Us
704.596.5211
704.596.5980