Trade-In a Vehicle

Close

As one of the largest classic car dealerships in the world, we are always look for new inventory. If you are interested in trading your high quality car for one of ours, simply fill out this form and click Submit.

Rear End

Brakes

Underside

Please Note: All sales transactions involving trade-in vehicles are based on Certified pricing with a Seal of Approval service level.

TCO

Close

Total Cost of Ownership Calculator

Your Price

$75,900

Select Shipping Option

This item can be collected at

Select Shipping Container Options:

Dedicated 20 ft Container
Shared 40ft Container

Select Destination Port:
Frame Off Restored 210 327 Dual Quad 3 Speed
Stock #

132439

Body Style

Hardtop

Engine

327 V8

Exterior Color

Onyx

Interior Color

Starfrost & Gray

Miles

5
$75,900
A

B

C

D

E

F

G

H

I

J

K

L

M

N

O

P

Q

R

S

T

U

V

W

X

Y

Z
Did You Know
?
1970 marked the first time in the four-year history of the Camaro that a convertible option was not offered.
Test your car knowledge!
See Also
these cars might interest you
See Comparable
recent sales
View hi-res image
Play Slideshow
Previous
Next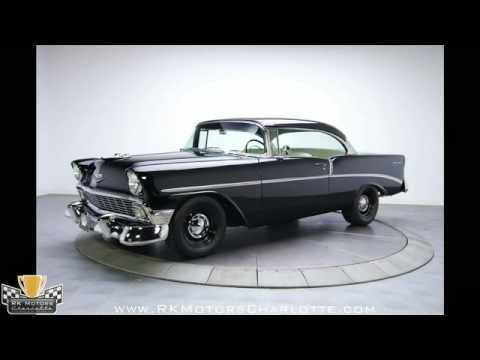 327 cubic inch dual-quad V8 that's correctly dressed as a 265
New Starfrost vinyl and Dark Gray cloth interior
3-speed manual transmission
$100K+ restoration
Onyx black exterior paint
Extensive documentation
If you could go back in time to 1956, knowing what you know today about performance cars, what would you buy? How about something like this impossibly beautiful 1956 Chevy 210 2-door hardtop as your first choice? Restored to represent what a hardcore performance junkie might have ordered new in '56, complete with a hot small block V8 topped with dual quads, a 3-speed manual, and all the other factory-correct equipment to make it the fastest car Chevy built that year. OK, so this particular one was originally a 6-cylinder with an automatic, but it's obvious that no expense was spared in creating an authentic, correct, exact replica of a car that Chevy built in only extremely limited numbers. If you want people to gather around and gaze in wonder at your hardware, take this sinister black '56 to the next cruise night or car show. It really is off-the-charts nice.
The original trim tag on the firewall says that this is a code 687 Onyx Black car, and the restoration ensures that it is beyond factory standards in every way. It's no secret that black cars need extra attention with prep and metal finishing before the paint goes on, and the guys who did the work on this one went above and beyond the call of duty. As you can see in the reflections, there are no ripples or waves anywhere, and the shine is consistent from one panel to the next, meaning that it was painted and blocked while it was assembled. While this may seem counter-intuitive, it's often easy to spot cars that were painted one piece at a time, since the color and shine is inconsistent and the gaps often mark a significant change in surface texture. Everything on this car is consistent, even, and super-straight. Show-quality is a term that gets thrown around quite a bit, but the finish on this car rivals the best in the industry, and I'd hate to be the guy who owns the car parked next to it at a show.
The same holds true with the chrome and stainless trim. On the 210, there's still quite a bit of it, and it is used to great effect on the Onyx Black paint, creating a contrast that makes it look almost custom. Look how precisely fitted that sweeping spear is, how crisp the Chevrolet script looks, and how deep the shine is on the bumpers. Look closer and you'll see that the grille is not only perfectly restored on the faces you can see, but also on the areas you can't see without close inspection—I can only imagine what that must have cost. The original bird hood ornament remains, as do the colorful Chevrolet emblems on the nose and trunk. Bullet-shaped tail lights are correct, and the glass carries a soft tint that looks original.
If you think the bodywork is amazing, wait until you look under the hood. That's a built 327 cubic inch V8 dressed up like an early 265; but no assembly line Chevrolet was ever this beautifully finished. The bright Chevy Orange paint on the block, heads, and valve covers looks like it was also wet sanded and buffed, and the finish is probably better than the paint on a 2011 Impala.
The big dual reservoir air cleaner is correct and covers a pair of correct Carter WCFB four-barrel carburetors. Chevrolet script is highlighted in silver on the stamped valve covers, and matches the finish on the intake. And speaking of finishes, those are perhaps the nicest ram's horn exhaust manifolds I've ever seen. This is no resto-mod, so things like the original generator, single reservoir manual brakes, and manual steering are just as the factory built them. Remember the point of this car was to build the ultimate 1956 Chevrolet, not the ultimate modern car that merely looks like a 1956 Chevrolet, and man, oh man, is it ever beautiful!
You can expect more of the same from the chassis, which has been restored to exacting standards—perhaps even over-restored, but who cares when it looks this good. The transmission is a simple and rugged 3-speed manual which fits this car's sleeper persona perfectly, and it spins the original rear end. Red oxide primer covers the floors and the frame wears an even coat of satin black. All the suspension members were also painted in original finishes, and the driveshaft carries balancing stripes that are much too even to have been applied at the factory. The dual exhaust system isn't some muffler shop special with Flowmasters, but an accurate factory setup that has a hushed rumble and terminates in cool rectangular tips. Every line, every hose, every fastener is brand new and none of them show so much as a wrench mark or any sign of corrosion.
The only deviation from stock are the fat 215/60/15 front and 235/60/15 rear BFGoodrich radials on refinished steel wheels with dog dish hubcaps, but a set of bias plys on another set of steelies are included with the car.
More of the same high quality workmanship is found inside, where it's concours-grade upholstery and detailing. Every single surface is new, from the fresh gray and white seat covers, to the simple yet stylish door panels, to the classic gray headliner. The dash has been painted and finished to the same standards as the body, and it is stuffed with freshly rebuilt gauges that show just 5.9 miles since this amazing car was completed. Notice that we're talking about the ultimate street predator in 1956, so that means no radio and no heater, either—not even a clock, all of which add weight. The column-shifted 3-speed manual is a great sleeper touch and the conversion from Powerglide automatic to stick shift is seamlessly done with OEM components.
There are no add-on gauges, no radios hidden in the glove box, nothing that wasn't available in 1956, except perhaps the quality of the workmanship. Even the trunk carries a basic rubber mat and an original bias ply tire with complete jack assembly.
Documentation is extensive. We have easy stuff like an original owner's manual, but this car also includes its original purchase documents from Standish Chevrolet dated October 11, 1956. It has the original purchase agreement, contract, and even a 1000-mile coupon issued to Adela Fortin, the car's first owner. We also have extensive restoration documentation, including photos showing the complete rebuild and a summary showing more than $90,000 in invoices. There's also an appraisal from 1996, prior to the rebuild when the car was still carrying its original 6-cylinder/Powerglide combination, and offering proof that this car was always clean, solid, and rust-free.
Cars this nice are always labors of love, not investments. Someone went way off the deep end of practical when this one was built, and the quality is flat-out astounding. It is beyond concours correct in every single way, and the components are highly accurate and period-correct. As I said earlier, if you wanted to build the ultimate 1956 Chevrolet in 1956, this is probably what you would end up with. In the days before high-performance was a selling feature, this car would have been a wolf in sheep's clothing, and few street cars would have been able to keep up. Today it's still a remarkable specimen, not only for its spectacular build quality, but for the single-minded dedication to performance that will tickle enthusiasts anywhere you go. Just the restoration cost nearly $100,000, and that's not counting the purchase of a super-clean, original, documented '56 Chevy hardtop. We see a lot of nice cars here at RK Motors Charlotte, but incredible cars like this are still notably rare. It's the ultimate street sleeper, and perhaps even the ultimate 1956 Chevrolet 210. If that appeals to you, give us a call today!
Basic
Year

1956

Make

Chevrolet

Secondary Make

n/a

Model Name

210

Secondary Model

n/a

Vehicle Type

Passenger Car

Hobby Segment

Classic

Mileage

5
Engine / Transmission
Engine Type

Gasoline

Engine Size

327 V8

Engine Number

n/a

Heads

n/a

Fuel Specification

n/a

Fuel Delivery System Type

Dual 4 Barrel

Transmission Type

3 Speed Manual

Transmission Spec

n/a

Transmission Number

n/a
Misc
Entertainment System Type

n/a

Battery Location

n/a

Battery Shut Off

n/a

Battery Charger

n/a

Power Steering

No

Air Conditioning

No
Interior
Interior Color

Starfrost & Gray

Seating Type

Bench

Seat Material

Vinyl Cloth

Shifter Type

Column

Center Console

No
Body
Body Style

Hardtop

Doors

2

Safe Body Color

Onyx

Paint Type

n/a

Stripes

No
Chassis
Front Suspension Type

n/a

Rear Suspension Type

n/a

Axle Specification

n/a

Front Wheel Specification

n/a

Rear Wheel Specification

n/a

Front Tire Specification

n/a

Rear Tire Specification

n/a

Front Brakes Specification

n/a

Rear Brakes Specification

n/a

Spare

n/a

Exhaust Type

n/a

Muffler Type

n/a
History
Restoration Status

n/a

Mileage Since Restoration

n/a

Awards Summary

n/a

Historical Documents Summary

n/a
Contact Us Regarding this Vehicle
Call Us
704.596.5211
704.596.5980