Trade-In a Vehicle

Close

As one of the largest classic car dealerships in the world, we are always look for new inventory. If you are interested in trading your high quality car for one of ours, simply fill out this form and click Submit.

Rear End

Brakes

Underside

Please Note: All sales transactions involving trade-in vehicles are based on Certified pricing with a Seal of Approval service level.

Finance this Vehicle

Close

Please take a few minutes to fill out our convenient on-line credit application and the RK Motors Charlotte credit department will begin the financing process. A RK Motors Charlotte credit support specialist will contact you when we have received and reviewed your application.

TCO

Close

Total Cost of Ownership Calculator

Your Price

$89,900

Select Shipping Option

This item can be collected at

Select Shipping Container Options:

Dedicated 20 ft Container
Shared 40ft Container

Select Destination Port:
1969
Chevrolet Camaro Z/28
Frame Off Built Camaro Z/28 Pro Touring LS2 V8 6 Speed
Engine

LS2 V8

Body Style

Hardtop

Miles

2

Stock #

132985

Interior Color

Black

Exterior Color

Lemans Blue
$89,900
A

B

C

D

E

F

G

H

I

J

K

L

M

N

O

P

Q

R

S

T

U

V

X

Y

Z
Did You Know
?
1970 marked the first time in the four-year history of the Camaro that a convertible option was not offered.
Test your car knowledge!
See Also
these cars might interest you
See Comparable
recent sales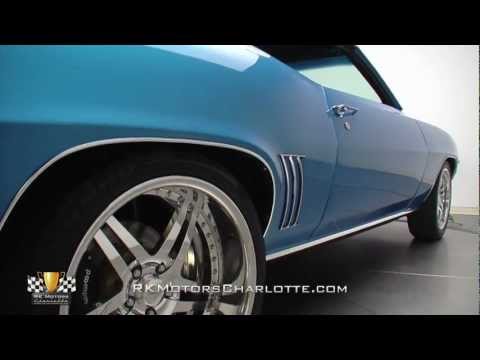 6.0 liter LS2 V8 which sends a dyno-proven 424 horsepower and 405 lb./ft. of torque to the rear wheels
Modified suspension
18 inch front and 20 inch rear Rushforth billet wheels
Vintage Air climate system
Borg Warner T56 6-speed transmission
Power steering
Correct LeMans Blue exterior paint that's accented by black rally stripes
10 bolt rear end
Four wheel power disc brakes
Black vinyl interior that's complete with Dakota digital gauges
What's better than a razor-sharp F1 Camaro which has twice the street credibility of its traditional kin? How about a brand new build of a razor-sharp F1 Camaro which has twice the street credibility of its traditional kin! This striking Z/28 pro-tourer was taken directly from its California restoration facility to a New York mechanics shop where it was fitted with some serious modern hardware. How serious, you ask? Well, there's a beefed up driveline with a modern 6-speed transmission, there's a plethora of meaningful suspension modifications, and lest we forget the 424 horsepower LS2 V8 hidden under the car's cowl induction hood. So, if you're looking for some classic Detroit metal that delivers the drivability of a modern sports car in one of the best looking packages to ever roll onto American streets, we have your car!
Logging only break-in miles since its September 2011 frame-off rotisserie restoration, this killer 1969 Camaro Z/28 displays the kind of smooth bodywork and excellent fit and finish that'd be right at home on a national show field. The car's build began at Autohaus Motorsports in Rancho Cucamonga, California where its small block body was stripped, welded to new quarters, bolted to new fenders and fitted with a new trunk filler. Once those refreshed panels were finessed into a collection of flat planes and smooth surfaces, a correct coat of GM code 71 LeMans Blue urethane was blanketed with traditional black rally stripes, sealed under a slick clearcoat shell and buffed to rock-solid shine. A quick look down this Camaro's straight and glossy profile reveals that days, and perhaps even months, were put into making sure it's build was fully-sorted in every way. And today, the car shines as one super cool pro-tourer which combines the best fundamentals of classic Detroit style with the fantastic performance of modern GM muscle!
There's no question the '69 Camaro is one of the best-looking pony cars of all time; and throwing a giant set of aggressive wheels and tires under a clean copy of its sculpted and masculine body only makes things better! At the front of this Z/28, a stainless trimmed and black painted grille hangs silver headlight buckets behind bright halogen headlights and a showroom fresh chrome bumper. Below that bumper, crystal clear parking lights illuminate an optional D80 front spoiler. And above that bumper, a familiar ZL2 cowl induction hood flows from a pristine "Camaro by Chevrolet" header emblem to bright stainless windshield wipers. At the top of the car, like-new glass is shielded by new chrome drip rails and framed by fresh, dent-free stainless trim. Below that glass, standard rocker moldings, straight wheel well trim and familiar Rally Sort louvers perfectly complement new marker lights, traditional door handles and a correct driver's side mirror. And behind that glass, an optional D80 rear decklid spoiler rides above clear '69 Camaro-exclusive tail lights a centered "Z/28" emblem, a second showroom fresh chrome bumper and spotless stainless exhaust tips. It just doesn't get much better than a sleek Camaro pro-tourer!
While the exterior enhancements to this cool Camaro may seem subtle, the 6.0 liter Generation IV LS2 V8 under its hood is anything but. Donated by a 2008 12K mile Trailblazer SS, this mildly modified mill utilizes LS6 heads, a low RPM intake, Nitrite hardened PAC beehive valve springs and a Speed Inc. SI5 custom grind cam to send a dyno-proven 424 horsepower and 405 lb./ft. of torque straight to the car's rear wheels! At the front of the lightweight block, a modern serpentine system spins a new AC Delco alternator and a new Vintage Air AC compressor at the sides of a custom fabricated cold air intake that's equipped with a high performance K&N filter element. Sparks are sequenced through proven MSD Super Conductor plug wires via a GM Performance Parts LS2 controller. Spent gases are whisked away by a slick pair of Dynatech MuscleMaxx ceramic coated headers. And cooling comes courtesy of an AFCO Racing LSX aluminum radiator that's complete with a large electric puller fan. Since this Camaro just benefitted from a complete high quality restoration, its engine compartment is exceptionally clean, and thus far, hasn't even had enough time to build up a thin layer of dust. And details like fresh satin black paint, LeMans Blue fuel rail covers and a brand new brake booster and master cylinder mix crowd forming aesthetics with road eating reliability.
Park this modernized F1 on a lift and you'll be pleased to find the restorer's extreme dedication to performance expanding to both the car's clean undercarriage and fully rebuilt suspension. The tweaked small block engine spins a stalwart hydraulic clutch that's connected to a Borg Warner T56 6-speed transmission, which was donated by a 20K mile 2002 Trans Am, a heavy duty nitrous driveshaft and a factory 10 bolt rear end. Naturally, a drivetrain this powerful needs equally powerful opposition, so its hubs were fitted with sturdy four wheel disc brakes which utilize large Wilwood calipers to squeeze giant rotors. And while most of this Camaro's double A-arm front and rear leaf spring suspension is comprised of restored factory hardware, the owner did see fit to optimize his SCCA-worthy handling with a modern power steering pump, tubular control arms, fully adjustable QA1 coil over shocks, and AFCO Racing lowering blocks. At the center of the car's completely new floors, spent gases flow from the engine's coated long tube headers to a throaty 2.5 inch Flowmaster American Thunder exhaust system. At the corners of the car 18 and 20 inch Rushforth billet wheels, which feature a custom ordered rear width, spin 245/45 front and 275/35 rear Kuhmo Ecsta performance radials. And small touches like new stainless hardware, new stainless fuel and brake lines, a new stainless fuel tank, and fresh black paint give the chassis a professional, finished look.
Open this Camaro's solid blue doors and you'll find a fully restored vinyl interior that is simple, attractive and straight to the point. The standard front bucket and rear bench seats feature fresh covers and, despite their 43 year old internals, feel both supportive and comfortable. In front of those seats a pliable and crack-free dash hangs a Dakota Digital VHX gauge system between controls for the car's Vintage Air climate system, a Retro Radio AM/FM/MP3 compatible head unit and chrome trimmed accessory knobs. At the sides of those seats, standard black door panels hang pristine stainless trim, new chrome door handles and new chrome window cranks around familiar black "Camaro" emblems. And beneath those seats, like-new black carpet frames a chrome Hurst short throw shifter that's complete with a white "Hurst" branded cue ball knob. In front of the driver, a Deluxe Comfort Grip steering wheel spins a black rim around a traditional red, white and blue Chevrolet horn button and a traditional tilt steering column that's complete with a full set of chrome stalks. And behind the cockpit, a freshly restored trunk features a smooth coat of fresh spatter paint.
You can find restoration pictures of this awesome pro-tourer on Photobucket. You can find video of the car's dyno run on YouTube . And included with the car's sale is both an official dyno sheet and a small stack of component manuals.
If you're in the market for a pavement bruiser that's a blast to show off and even MORE fun to drive, your search is over. This fully restored Camaro pro-tourer mixes classic Chevrolet looks with a ton of power and some of the best drivetrain and suspension components on the market. Why waste years of your valuable time and strain your bank account on a ground up muscle car when you can walk right into our showroom, throw down about half the money, and experience a brand new build without any do-it-yourself headache?
Basic
Year

1969

Make

Chevrolet

Secondary Make

n/a

Model Name

Camaro

Secondary Model

Z/28

Vehicle Type

Passenger Car

Hobby Segment

Pro-Touring

Mileage

2
Engine / Transmission
Engine Type

Gasoline

Engine Size

LS2 V8

Engine Number

n/a

Heads

Aftermarket

Fuel Specification

92/93 Octane

Fuel Delivery System Type

Electronic Fuel Injection

Transmission Type

6 Speed Manual

Transmission Spec

T56

Transmission Number

n/a
Misc
Entertainment System Type

AM/FM Radio

Battery Location

RH Engine Compartment

Battery Shut Off

None

Battery Charger

None

Power Steering

Yes

Air Conditioning

Yes
Interior
Interior Color

Black

Seating Type

Bucket

Seat Material

Vinyl

Shifter Type

Floor

Center Console

No
Body
Body Style

Hardtop

Doors

2

Body Color

Lemans Blue

Paint Type

Basecoat/Clearcoat

Stripes

Yes
Chassis
Front Suspension Type

Double A-arm

Rear Suspension Type

Leaf Spring

Axle Specification

10 Bolt

Front Wheel Specification

18X8

Rear Wheel Specification

n/a

Front Tire Specification

n/a

Rear Tire Specification

n/a

Front Brakes Specification

Power Disc

Rear Brakes Specification

Power Disc

Spare

n/a

Exhaust Type

Dual Exhaust

Muffler Type

FlowMaster
History
Restoration Status

Restored

Mileage Since Restoration

2

Awards Summary

Not shown

Historical Documents Summary

A few component manuals. Restoration photos here: http://s1187.photobucket.com/albums/z390/talwell/1969%20Camaro%20LeMans%20Blue/
Contact Us Regarding this Vehicle
Call Us
704.596.5211
704.596.5980