Trade-In a Vehicle

Close

As one of the largest classic car dealerships in the world, we are always look for new inventory. If you are interested in trading your high quality car for one of ours, simply fill out this form and click Submit.

Rear End

Brakes

Underside

Please Note: All sales transactions involving trade-in vehicles are based on Certified pricing with a Seal of Approval service level.

TCO

Close

Total Cost of Ownership Calculator

Your Price

$27,900

Select Shipping Option

This item can be collected at

Select Shipping Container Options:

Dedicated 20 ft Container
Shared 40ft Container

Select Destination Port:
1991
Chevrolet C/1500 454 SS
Frame up Built Custom 1/2 Ton Supercharged 454 V8 4L80E
Stock #

133291

Body Style

Pickup Truck

Engine

454 V8

Exterior Color

Onyx

Interior Color

Red

Miles

44081
$27,900
A

B

C

D

E

F

G

H

I

J

K

L

M

N

O

P

Q

R

S

T

U

V

W

X

Y

Z
Did You Know
?
1970 marked the first time in the four-year history of the Camaro that a convertible option was not offered.
Test your car knowledge!
See Also
these cars might interest you
See Comparable
recent sales
View hi-res image
Play Slideshow
Previous
Next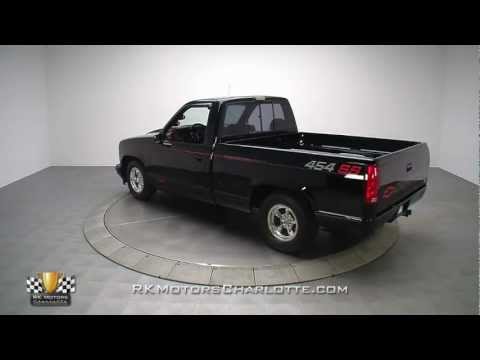 Lowered 3 inches
14-bolt differential / 4.11 gears
Original sales paperwork
650hp 454cid V8
2-link rear suspension with coilovers
Bowtie Overdrives 4L80E
Fresh Onyx Black paint
If you trace the history of the sport truck, it's difficult to find an example produced before 1990. Dodge built a few oddities like the Li'l Red Express trucks and the quirky convertible Dakota Sports but neither were exactly performance oriented. It was the GM camp who first introduced the concept with their potent 454 SS models based on the venerable GMT400 platform. With big block power and sportier suspensions, these pickups traded towing capacity for time slips and opened a lot of enthusiasts' minds in the process. Placing the classic pickup under a different light made room for the creation of trucks like this fire-breathing 1991 454 SS. Its builder took a look at Chevrolet's sport truck presets and turned nearly all of them up to eleven. With a 650hp big block, built transmission and a sinister look, this is the Lightning-killing SS bowtie fans wanted Chevrolet to build in the first place. Ready to own the baddest truck on your block? Step up to this awesome 454 SS.
Starting with one of the best looking full size Chevy trucks to roll off the assembly line in years, designers stripped the truck to its bare essentials – no chrome, no extraneous trim. While GM did eventually offer the truck in a total of three colors, Onyx Black was the only option for the 1990-1991 models. Thanks to an issue with the factory primer, nearly all of these trucks have been repainted. This one is no exception but, in this case, non-original paint is a good thing. The coat of black sprayed across the exterior of this pickup is far deeper and far richer than any black ever shot in a General Motors plant. Helping that black paint pop is the immaculate body underneath which is free of any discernible flaws. The paint and body combine to form a mirror-like surface, which looks incredible given the truck's broad flat panels. While "factory panel fitment" can be a quietly derogatory term, this truck works against stereotypes with clean even gaps found all around the truck.
Dressed in black, these were understated trucks with very little breaking up the sinister surface. This example retains the factory vibe but builds upon it thanks to some carefully chosen pieces. At the forward-pointing end, a blacked-out grille shell and black bumper form a stealthy fascia accented by a black and red bowtie and two sets of rectangular lights. Just above those lights, a fiberglass cowl hood recalls the visual cues of other vehicles in the Super Sport heritage. The hood wears a healthy dose of traditional pin-striping done in red. The stripe is matched by a custom red pinstripe that runs most the length of the body before transforming into a texture gray strip that underscores the "454 SS" badging that adorns each rear bedside. Black body molding runs parallel to the striping while factory aero-style mirrors give the truck an updated look. The factory glass, including the sliding rear window, remains in place with the driver and passenger windows outlined by tinted vent visors. At the rear, a red bowtie and slanted "Chevrolet" script adorn the tailgate while a nice aftermarket roll pan eliminates the unsightly factory bumper.
While the 454 SS had a healthy powerplant to begin with, this truck takes that idea to the next level. Pop the fiberglass cowl hood and you'll find a completely rebuilt 454 V8 churning out an estimated 650 horsepower with its current tune. Naturally, it took some work to coerce that extra 430 horsepower out of the 7.4 and that work started at the ground level. The crew at Terry Walters Precision Engines in Roanoke, Virginia went through and added pieces like a 270-276 Comp cam and roller rockers, as well as a fresh intake manifold to accommodate the new multi-port fuel injection system. At the sides, Edelbrock heads dressed with custom fabricated valve covers were added to help the big block breathe. Once the freshly rebuilt engine was buttoned up, an intercooled ProCharger assembly was added and dialed in to force a consistent 12-14lbs of boost straight down the throttle body. This was no backyard build, so the supporting hardware is every bit as nice as the centerpiece. At the front, an aluminum radiator and slick dual-fan set up keep the big block cool in traffic while a CompressorWorks air conditioning compressor, 100-amp alternator and power steering pump spin off engine power. The results definitely speak for themselves. Breathing through Edelbrock headers which bolt up to a true dual exhaust system utilizing Flowmaster mufflers, the truck has one hell of a bark that will let everyone in the area know something serious lives under the hood.
Peer underneath and you'll find a chassis modified to accommodate the added power. Directly behind the 454, a Bowtie Overdrives heavy duty 4L80E four-speed automatic transmission takes care of gear selection. The driveshaft remains a stock piece as does the massive 14-bolt differential packed with 4.11 gears. The truck would probably snap necks with a 3.08 gearing but the lower gear really makes the pickup a monster off the line. In order to keep the back end planted, the stock leaf spring setup was ditched in favor of a two-link setup with adjustable coilovers. To even out the stance the front end was lowered approximately three inches while the factory front sway bar keeps things stable through corners. These trucks had a bit of rake from the factory and the stance adjustment kept that in place, giving the truck a super aggressive look to back up its fearsome drivetrain. A quick ratio steering box was part of the original SS package and it remains in place as does the power brakes with disc up front and drums in the back. To play up the hot rod theme, a set of polished 15-inch Halibrand five-spoke wheels were ordered and wrapped in BF Goodrich rubber in sizes 245/60 up front and 275/60 out back.
Between the doors, a straightforward Garnet Red interior offers a pleasant place to . Clean red carpet cover the floors while two high-back bucket seats provide comfortable and supportive seating. Between the seats, a large center console offers two cup holders and a cavernous center console. The door panels are simple squared pieces, covered in red fabric and topped with chrome door pulls and gray plastic switches for the windows and door locks. From the driver's seat, a four-spoke leather-wrapped Lecarra steering wheel provides connection to the steering system through a tilt column. Behind the wheel, a square dash offers a black instrument cluster keeps taps on speed, revs, fuel, temperature, oil pressure and voltage through white and orange lettered gauges. In addition to the stock hardware, small boost and fuel pressure gauges by Autometer have been added onto the driver's side A-pillar. The stock stereo remains in place with a separate factory five-band equalizer and cassette player mounted under vents in the center of the dash. As a relatively modern truck, features like air conditioning and cruise control are in place to make long cruises a little more pleasant.
For a relatively late model truck, this 454 SS comes with a considerable amount of documentation. All the original sales paperwork from Fellers Chevrolet is present including the original window sticker and owner's manual. There are also separate manuals for both the ProCharger system and Bowtie Overdrives transmission. A printout from Comp Cams shows the exact cam specs while a handwritten specs page covers both the modifications and their respective costs.
The best part about this truck is that it isn't some outlandish custom that can't be driven. The truck fires up and functions just like the stock piece – it just has A LOT more power. With great looks and a special place in GM history, this 1991 454 SS is a great truck to drive, enjoy and hold onto. If you always wanted a little more from the 454 SS trucks, don't miss the opportunity to snatch this one and get a whole lot more.
Basic
Year

1991

Make

Chevrolet

Secondary Make

n/a

Model Name

C/1500

Secondary Model

454 SS

Vehicle Type

Pickup Or Truck

Hobby Segment

Truck

Mileage

44081
Engine / Transmission
Engine Type

Gasoline

Engine Size

454 V8

Engine Number

n/a

Heads

Aftermarket

Fuel Specification

n/a

Fuel Delivery System Type

Electronic Fuel Injection

Transmission Type

4 Speed Automatic

Transmission Spec

4L80E

Transmission Number

n/a
Misc
Entertainment System Type

n/a

Battery Location

n/a

Battery Shut Off

None

Battery Charger

None

Power Steering

Yes

Air Conditioning

Yes
Interior
Interior Color

Red

Seating Type

Bucket

Seat Material

Cloth

Shifter Type

Column

Center Console

Yes
Body
Body Style

Pickup Truck

Doors

2

Safe Body Color

Onyx

Paint Type

n/a

Stripes

No
Chassis
Front Suspension Type

Coilovers

Rear Suspension Type

Coilovers

Axle Specification

4.11

Front Wheel Specification

15x7"

Rear Wheel Specification

15x8"

Front Tire Specification

n/a

Rear Tire Specification

275/60R15

Front Brakes Specification

Power Disc

Rear Brakes Specification

Power Drum

Spare

n/a

Exhaust Type

Dual Exhaust

Muffler Type

FlowMaster
History
Restoration Status

Restored

Mileage Since Restoration

n/a

Awards Summary

n/a

Historical Documents Summary

Original window sticker; original invoice; Owner's manual; receipts, component manuals
Contact Us Regarding this Vehicle
Call Us
704.596.5211
704.596.5980