Trade-In a Vehicle

Close

As one of the largest classic car dealerships in the world, we are always look for new inventory. If you are interested in trading your high quality car for one of ours, simply fill out this form and click Submit.

Rear End

Brakes

Underside

Please Note: All sales transactions involving trade-in vehicles are based on Certified pricing with a Seal of Approval service level.

Finance this Vehicle

Close

Please take a few minutes to fill out our convenient on-line credit application and the RK Motors Charlotte credit department will begin the financing process. A RK Motors Charlotte credit support specialist will contact you when we have received and reviewed your application.

TCO

Close

Total Cost of Ownership Calculator

Your Price

$49,900

Select Shipping Option

This item can be collected at

Select Shipping Container Options:

Dedicated 20 ft Container
Shared 40ft Container

Select Destination Port:
Frame Up Built C10 Custom Pickup 383 Stroker V8 700R4
Engine

383 V8

Body Style

Pickup Truck

Miles

2105

Stock #

132706

Interior Color

Beige

Exterior Color

Burgundy & Orange
$49,900
A

B

C

D

E

F

G

H

I

J

K

L

M

N

O

P

Q

R

S

T

U

V

X

Y

Z
See Also
these cars might interest you
See Comparable
recent sales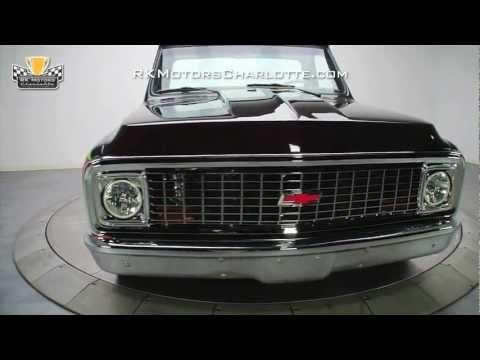 Show winner
4-link with coilovers
18 inch wheels
383 Stroker V8
Full custom interior
700R4 4-speed automatic
Vintage Air
I'm sure your eyes are dancing over the details on this stunning 1972 Chevrolet C10 pickup, and yes, the list of custom modifications is quite extensive. The amount of time and money invested here is all out of proportion to the sticker price, and it's a show-winning machine that drives every bit as good as it looks, with impressive performance from a 383 cubic inch stroker motor. The C10 is also coming into its own as a red-hot collector's item, and with the infinite varieties of modifications, they're always welcome additions to any show or cruise-in in the country. Forget muscle cars, the affordable future collectable is a truck!
The paint is two-tone burgundy over orange metallic pearl. Yes, it looks black under certain conditions, but when the light hits it just right, the truck is dazzling and instantly sheds all those Halloween references you're likely thinking about right now. It's amazing in person. Of course, the little things on this truck are what make it truly special, so the flames licking along the front fenders, the bright green and purple striping, and the astounding finish quality truly make it stand out. You can't build a truck like this and cut corners, not when every eyeball on the show field will be rolling over its flanks, so the sheet metal is arrow-straight and the custom paint has been rubbed and buffed to a brilliant shine. Custom touches abound, including dual frenched power antennas in the bed, the extremely cool exhaust cutouts in the rocker panels, shaved handles, and a steel cowl induction hood. All the lighting uses clear lenses, with cool cat's eye headlamps, with LEDs in the tail lamps. The build quality is all first-rate, and you'll note that the pinstriping extends into the door jambs, a sure sign of professionals at work.
Mercifully, they chose to retain much of the stock chrome and trim, including the front bumper and grille, which have been beautifully refinished and glitter like jewelry. There's a flush-mounted tonneau cover for the bed which pivots up on hydraulic struts, effectively creating the world's largest weatherproof trunk, and the bed underneath is immaculate, with the paint scheme continued inside, which is truly above and beyond the call of duty.
The show continues under the hood where the 383 cubic inch small block Chevy is the star. Breathing through a four-barrel carburetor on a high-rise intake, it makes big torque with a snarling exhaust note better suited to a Corvette than a pickup truck. As beautifully detailed as the body, the engine bay offers cool things like the chromed inner fenders that show off all the details, a hood and firewall finished to the same standards as the bodywork, and a ton of billet and chrome dress-up. A big aluminum radiator with a giant electric fan keeps it cool under the worst conditions, and a Billet Specialties Tru Track serpentine drive system for the accessories keeps everything spinning reliably. Much of the plumbing is real braided stainless, and there's no doubt that a great deal of time and effort was spent making sure the engine bay was up to the same standards as the rest of the truck.
For easy cruising, there's a 700R4 4-speed automatic behind the stout small block, and it turns a rugged 12-bolt rear end that's more than up to the task of handling all that horsepower. The front suspension is stock, although the rear end uses a triangulated 4-link setup with coil-overs to plant the power far more effectively than the original springs and control arms ever could. The stainless dual exhaust system is completely custom, with long tube headers dumping out of the side exits through a pair of Magnaflow mufflers. Rolling stock consists of 18×8 front and giant 18×10 Billet Specialties wheels wearing 275/40/18 front and 295/45/18 rear Nitto performance radials.
As beautifully executed as the body and engine bay are, the interior sill simply blow you away. Finished in two-tone tan leather, there's not a stock component left save for the original body tag affixed to the driver's door pillar. Starting with the door panels, which are the most artfully sculpted door panels you've ever seen, climbing into this truck is a lesson in the art of custom upholstery. Note the polished aluminum details that bridge the leather and original metal door panels, the way the paint even wraps onto the dashboard, and the polished door sills. The bench seat has been wrapped in supple hides with inset billet aluminum buttons purely for style points, and it's every bit as comfortable as it looks. Overhead, the handmade headliner continues the leather and aluminum theme, and even the sun visors are wrapped in luscious tan leather. Tilt the seat forward, and you'll be thrilled to discover that even the panel behind the seat, which is completely hidden from view, has a leather-wrapped panel! Classic Instruments supplied the white-faced gauges, and Vintage Air provides billet controls and stylish chrome vents in the center of the dash. A billet steering column wears a vintage-looking wheel wrapped in matching leather, and Lokar supplied the long-handled shifter for the automatic transmission. Entertainment is provided by a Pioneer AM/FM/CD/MP3 head unit with speakers scattered throughout the passenger compartment.
We invite you to personally inspect this truck, because like most customs, the level of detail and stunning build quality simply can't be conveyed using pictures and words alone. I don't know what it cost to build, but the number was surely A LOT bigger than the asking price, and it has been used very little since it was completed. Best of all, it's still fully functional as a vehicle, so you can drive it anywhere, any time in comfort and style. This is truly one of the finest custom trucks we've ever featured, and the guys out in the shop still can't stop talking about it. Spectacular.
Basic
Year

1972

Make

Chevrolet

Secondary Make

n/a

Model Name

C10

Secondary Model

n/a

Vehicle Type

Pickup Or Truck

Hobby Segment

Pickup

Mileage

2105
Engine / Transmission
Engine Type

Gasoline

Engine Size

383 V8

Engine Number

n/a

Heads

n/a

Fuel Specification

n/a

Fuel Delivery System Type

Single 4 Barrel

Transmission Type

4 Speed Automatic

Transmission Spec

THM700 R4

Transmission Number

n/a
Misc
Entertainment System Type

AM/FM Single CD

Battery Location

RH Engine Compartment

Battery Shut Off

None

Battery Charger

None

Power Steering

Yes

Air Conditioning

Yes
Interior
Interior Color

Beige

Seating Type

Bench

Seat Material

Leather

Shifter Type

Floor

Center Console

No
Body
Body Style

Pickup Truck

Doors

2

Body Color

n/a

Paint Type

n/a

Stripes

Yes
Chassis
Front Suspension Type

Double A-arm

Rear Suspension Type

4-Link

Axle Specification

12 Bolt

Front Wheel Specification

18X8

Rear Wheel Specification

18X10

Front Tire Specification

275/40ZR18

Rear Tire Specification

295/45ZR18

Front Brakes Specification

Power Disc

Rear Brakes Specification

Power Drum

Spare

n/a

Exhaust Type

Dual Exhaust

Muffler Type

MagnaFlow
History
Restoration Status

Restored

Mileage Since Restoration

n/a

Awards Summary

None

Historical Documents Summary

None
Contact Us Regarding this Vehicle
Call Us
704.596.5211
704.596.5980