Trade-In a Vehicle

Close

As one of the largest classic car dealerships in the world, we are always look for new inventory. If you are interested in trading your high quality car for one of ours, simply fill out this form and click Submit.

Rear End

Brakes

Underside

Please Note: All sales transactions involving trade-in vehicles are based on Certified pricing with a Seal of Approval service level.

TCO

Close

Total Cost of Ownership Calculator

Your Price

$139,900

Select Shipping Option

This item can be collected at

Select Shipping Container Options:

Dedicated 20 ft Container
Shared 40ft Container

Select Destination Port:
Frame Up Built Hemicuda Convertible 426 HEMI 4 Speed
Stock #

133356

Body Style

Convertible

Engine

426 HEMI V8

Exterior Color

Lemon Twist

Interior Color

Black

Miles

55
$139,900
A

B

C

D

E

F

G

H

I

J

K

L

M

N

O

P

Q

R

S

T

U

V

W

X

Y

Z
Did You Know
?
1970 marked the first time in the four-year history of the Camaro that a convertible option was not offered.
Test your car knowledge!
See Also
these cars might interest you
See Comparable
recent sales
View hi-res image
Play Slideshow
Previous
Next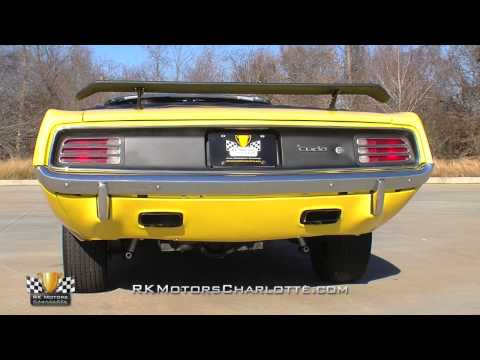 Era-correct, 426 cubic inch Hemi V8 that makes 425 horsepower and 490 lb./ft. of torque
Equipped with Hemi torsion bars, Hemi torque boxes and an authentic Hemi K-member
15 inch Rallye wheels
Fresh rotisserie restoration
4-speed manual transmission
Factory power steering
Correct Lemon Twist Yellow paint
Correct Dana 60 rear end that's complete with 3.55 gears and a Sure Grip differential
Factory power front disc and rear drum brakes
Equipped with a Rallye gauge cluster
RK Motors Charlotte has great luck finding first rate Plymouth E-Bodies. You probably noticed the Ivy Green award winner we featured last week. Or the low-mileage world-beater we showcased last year. Well, if you like the sound of those Mopars but think better of diving head first into a $200K investment, we've got the 'Cuda for you! How about a 1970 convertible that's decked in correct Lemon Twist Yellow and restored with an era-correct 426/4-speed drivetrain? A ton of time and money was spent making this bright bombshell one of the best Hemi 'Cuda tributes on the planet. And it's the perfect way for any hardcore Chrysler enthusiast to join the upper echelon of collector cars without taking out a second mortgage. So, if you're looking for a freshly restored Hemi car that's anything but a numbers matching drama queen, this drop-top torque monster is your ticket!
Is there a more outrageous high impact color than Lemon Twist Yellow? As one of the most appealing hues to come out of Chrysler's hip 1970s 'brighter is better' mindset, code FY1 yellow is probably the most dynamic paint to ever adorn classic Mopar metal. And when it's expertly applied under traditional Hemi side stripes, it's an absolutely glowing reminder as to just how crazy the muscle car era really was. Naturally, that fluorescent pigment looks right at home highlighting this rotisserie restored 'Cudas straight profile; after all it is the car's original color. And the result is one high energy symphony of razor-sharp lines, rock-solid panels and super glossy surfaces that oozes bare-knuckle confidence and old school appeal!
Thanks to its high dollar, frame-off restoration, this Plymouth's crisp fit and spectacular ornamentation present much better than any factory-fresh original car. At the front of its profile, a traditional redline grille hangs two clear headlights and a small "PLYMOUTH" script between a showroom-fresh bumper, correct chrome fog lights and clear parking lamps. At the top of those lamps, a familiar shaker hood splits the difference between two stainless pins and like-new glass that's framed by well-maintained stainless trim, Lemon Twist sport mirrors and a black vinyl top. At the sides of that top, optional turn signal indicators and satin-finish door handles ride above stainless wheel mouldings, ridged rocker trim and a trademark Chrysler pentastar emblem. And at the back of the car's profile, a traditional black valence hangs like-new tail lights and a small "'cuda" emblem between a great looking Go Spoiler, a second show worthy bumper and bright stainless exhaust tips. Unlike most dressed and decaled cars, which tend to throw good taste out the window, this awesome 'Cuda seamlessly balances a cool personality with flashy good looks to create one timeless muscle car!
Pull the pins on this 'Cuda's bright yellow hood and you'll find an era-correct 426 cubic inch Hemi V8 that's been professionally restored to first class condition. As Chrysler's top option for power hungry gearheads this legendary elephant block, which is complete with its famous 2468330 casting number, utilizes cast iron heads, an oversquare bore, a forged steel crank, forged steel connecting rods, forged aluminum pistons and a hydraulic camshaft to turn stout 10.25 to 1 compression into an advertised 425 horsepower and 490 lb./ft. of torque. All that high performance hardware is housed in a glossy Hemi Orange block which hangs an attractive set of Organisol-coated valve covers above correct low restriction exhaust manifolds. Fuel and air are supplied by two large 4-barrel carburetors that are bolted to a high performance intake manifold. Compression is sparked by high quality Chrysler Electronic Suppression wires which are snapped onto a correct points distributor. And resultant combustion is cooled by a correct heavy duty radiator which comes complete with reproduction Chrysler hoses and old school squeeze clamps. Visually, the engine bay of this stellar Mopar is in brilliant, show-ready condition featuring immaculate detailing and correct finishes throughout. And naturally, all the little details like correct markings, a correct Mopar red cap battery and even the car's two satin black horns have been accurately duplicated or completely restored.
This 'Cudas fully restored chassis is every bit as clean and straight forward as its solid exterior panels and fully sorted engine. The high-winding Chrysler big block churns power through a professionally rebuilt 4-speed that spins a correct Dana 60 Sure Grip around stout 3.55 gears. Braking, which is surprisingly competent for a 43 year old car, comes courtesy of power front discs and heavy duty drums. Turning is aided by a factory power steering system that's bolted between Hemi torsion bars, Hemi torque boxes and an authentic Hemi K-member. Charred dinosaurs flow through a traditional H-shaped crossover to large aluminized pipes and dual-chamber Flowmaster mufflers. At the corners, 15 inch Rallye wheels spin fresh F60-15 Goodyear Polyglas GTs around new trim rings and gray center caps. And aesthetically, the bottom of this super cool Plymouth is fully detailed and ready for show; with spotless yellow floors framing freshly undercoated wheel wells, a correctly marked suspension and a new stainless fuel system.
Inside this convertible, a fully restored black vinyl interior is simple, functional and looks as good as new. Top dead center, high-back bucket and rear bench seats are showroom fresh and show barely any signs of wear. Below those seats, like-new carpet is protected by rubber "'cuda" branded floor mats. At the sides of those seats, molded door panels proudly hold the 'Cuda name amid subtle stainless trim and clean chrome hardware. Between those seats, an optional console anchors a cool Hurst pistol grip shifter in vivid wood trim. In front of those seats, a warp-free dash hangs familiar Rallye gauges above a vintage Chrysler 8-track player and a small Sunpro accessory gauge. In front of the driver, a wood-rimmed steering wheel perfectly complements the car's sculpted console and slick instrument panel. And behind the cockpit, a fully restored trunk holds a new mat, a correct spare tire and a full jack assembly below a tight convertible cowl and a correctly decaled decklid.
The sale of this twisted E-Body includes an owner's manual, a few dealer pamphlets and some digital build photos.
Freshly restored, and highly accurate in every way, this convertible 'Cuda is guaranteed to please even the most discerning Mopar enthusiast. And with its great performance and classic good looks, it'll drive, show and take home trophies just as well as any 'ropes and red carpet' car. If you're looking for some awesome top-tier muscle that you can actually drive and enjoy, this Plymouth is your kind of car!
Basic
Year

1970

Make

Plymouth

Secondary Make

n/a

Model Name

'Cuda

Secondary Model

n/a

Vehicle Type

Passenger Car

Hobby Segment

Muscle Car

Mileage

55
Engine / Transmission
Engine Type

Gasoline

Engine Size

426 HEMI V8

Engine Number

2468330

Heads

Stock

Fuel Specification

n/a

Fuel Delivery System Type

Dual 4 Barrel

Transmission Type

4 Speed Manual

Transmission Spec

n/a

Transmission Number

n/a
Misc
Entertainment System Type

AM Radio

Battery Location

LH Engine Compartment

Battery Shut Off

None

Battery Charger

None

Power Steering

Yes

Air Conditioning

No
Interior
Interior Color

Black

Seating Type

Bucket

Seat Material

Vinyl

Shifter Type

Floor

Center Console

Yes
Body
Body Style

Convertible

Doors

2

Safe Body Color

Lemon Twist

Paint Type

Basecoat/Clearcoat

Stripes

Yes
Chassis
Front Suspension Type

Torsion bar

Rear Suspension Type

Leaf Spring

Axle Specification

Dana 60

Front Wheel Specification

15x7"

Rear Wheel Specification

15x7"

Front Tire Specification

F60-15

Rear Tire Specification

F60-15

Front Brakes Specification

Power Disc

Rear Brakes Specification

Power Drum

Spare

n/a

Exhaust Type

Dual Exhaust

Muffler Type

FlowMaster
History
Restoration Status

Restored

Mileage Since Restoration

n/a

Awards Summary

n/a

Historical Documents Summary

Owner's manual. Dealer pamphlets. Build photos (digital files)
Contact Us Regarding this Vehicle
Call Us
704.596.5211
704.596.5980