Trade-In a Vehicle

Close

As one of the largest classic car dealerships in the world, we are always look for new inventory. If you are interested in trading your high quality car for one of ours, simply fill out this form and click Submit.

Rear End

Brakes

Underside

Please Note: All sales transactions involving trade-in vehicles are based on Certified pricing with a Seal of Approval service level.

Finance this Vehicle

Close

Please take a few minutes to fill out our convenient on-line credit application and the RK Motors Charlotte credit department will begin the financing process. A RK Motors Charlotte credit support specialist will contact you when we have received and reviewed your application.

TCO

Close

Total Cost of Ownership Calculator

Your Price

$99,900

Select Shipping Option

This item can be collected at

Select Shipping Container Options:

Dedicated 20 ft Container
Shared 40ft Container

Select Destination Port:
AACA Senior 1st Continental Convertible Flathead 12
Engine

292 Flathead 12

Body Style

Convertible

Miles

85381

Stock #

133101

Interior Color

Black

Exterior Color

Black
$99,900
A

B

C

D

E

F

G

H

I

J

K

L

M

N

O

P

Q

R

S

T

U

V

X

Y

Z
Did You Know
?
1970 marked the first time in the four-year history of the Camaro that a convertible option was not offered.
Test your car knowledge!
See Also
these cars might interest you
See Comparable
recent sales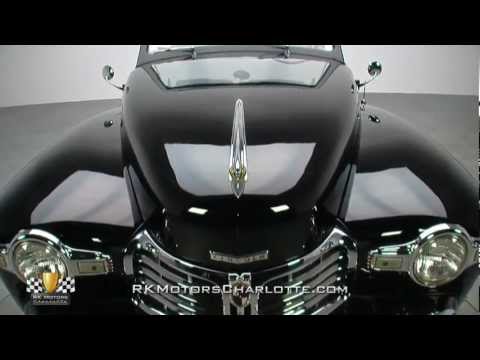 AACA Senior Award winner
3-speed manual transmission with overdrive
Frame off restoration
Air conditioning
292cid Flathead V12
Original service manuals
While history has allowed many of Edsel Ford's accomplishments as president of Ford Motor Company to fall under his father's shadow, the first generation of Lincoln Continental is one that simply can't be denied. Executed by Ford's chief stylist, E.T. Gregorie, the early Continental has been recognized by both the Museum of Modern Art and Time magazine for its spectacular design. This 1948 Lincoln Continental convertible is an impeccable example, restored to the absolute highest standards. One of an estimated 452 hand-built convertibles produced for the 1948 model year, this car features a Flathead 12 and a long list of amenities including air conditioning, power windows and even seat warmers. A show car in every right, this Lincoln has claimed awards from top events, including a prestigious AACA Senior Award. If you've been looking for the perfect early American luxury car to put in your collection, this fully functional '48 Lincoln is an idea candidate.
Walking up to the 18-foot cruiser, one thing is for certain – the car makes a big first impression. Massive and elegant, the convertible has a presence that stretches beyond its large proportions. The Continental was based on Zephyr blueprints and, in many ways, resembles a sectioned version of that car. Its long front end and short rear overhang play off classic sports car design while its use of an externally mounted spare tire was so effective that the feature was known as a Continental Kit throughout the automotive world for years to come. Restored in the early 1980s at the highest imaginable level, this particular '48 remains visually stunning. Its long laser straight panels wear a coat of black paint that has been meticulously maintained since the day it was originally shot. Deep and rich as good black paint should be, it's hard to imagine a more fitting shade for this Lincoln. As a hand-built car built in modest numbers, fit and finish on these Continentals was surely well above average to begin with. With the top notch restoration in its history, it's safe to assume this convertible is even better than new.
With a price tag of nearly $5,000 in 1948, it was important for the car to practically ooze luxury. The ornamentation that tops off this Lincoln's sculpted shell certainly accomplishes that. Up front, a commanding grille utilizes four different sections of chrome grids to form its centerpiece. Framed by a tiered chrome bumper and two round headlights placed with sculpted chrome bezels, the front end topped off with a painted Lincoln badge and a sweeping hood ornament. At the sides, AACA Senior Award badges cling on to the fenders, just below chrome mirrors. The full length rocker trim looks great as does the trim surrounding the windows. All glass is show quality and the tan canvas top fits and operates well. At the rear of the car, the deeply inset spare tire is frame by taillights, worked into attractive bezels that wrap around to the rear fenders. At the bottom, another tiered chrome bumper with two vertical bumper guards finishes off the back end with style. Combined, the car looks solid, heavy and well made- just as a proper luxury car should.
Under that long graceful hood, a 292 cubic inch side-valve V12 provides motivation for the luxury cruiser. A flathead design, the engine shares a similar look to its smaller Ford-badged siblings. From a purely aesthetic point of view, the engine is an attractive piece with its block, front cover, vibration damper and water pump all featuring a glossy coat of Lincoln Green that provide an interesting contrast against the convertible's black exterior. The air cleaner features correct decals as does oil filter – both of which are covered in the extensive restoration guide included with the car. With only a single Holley down draft carburetor providing fuel, the compact V12 manages to produce 130hp and 220 lb-ft of torque. While the horsepower rating may seem low by modern standards, the car is capable of reaching highway speeds smoothly, with all the quiet dignity one would expect from a hand-built luxury car. The startup procedure is certainly more complex than most modern drivers are accustomed to but the engines fires on the first try and remains impressively strong.
Underneath the car, the restoration has held up well with very limited signs of use showing throughout. In the center, a three-speed manual gearbox with overdrive applies the V12's power through the torque tube and eventually to the rear differential. That differential is supported by the factory transverse leaf spring and radius rods while the front end features a solid axle/leaf spring configuration. Though basic by many standards, the gentle ride provided by this convertible is inarguable. The undercarriage is largely covered in black enamel paint with only small items such as cadmium brake lines or copper plated fuel lines breaking up the darkness. Reining in the V12 is simple thanks to hydraulic drum brakes at all four corners, which remain hidden by steel wheels, covered in chrome Lincoln-branded wheel covers and wrapped in 7.00×15 Firestone whitewalls.
Press the Zephyr-style door buttons and a luxurious interior comes into plain view. Underneath the clean tan top, two rows of leather-covered bench seats provide ample seating. In the back seat, cigarette lights and ashtrays can be found on either side while the front row gets a view of the attractive factory dashboard. From the driver's seat, a highly detailed two-spoke steering wheel mixes dark red and chrome around an original Lincoln-branded horn button. Behind that wheel, chrome bezels house gold-lettered gauges that keep tabs on temperature, oil pressure, amps, fuel level and speed. An AM radio is mounted atop an elaborate chrome centerpiece that anchors the dashboard while a large-face clock resides to the right of the radio. In front of the passenger, another chrome piece features gold Lincoln script that punctuates the intricate dashboard. At the sides, the door panels are wrapped in black leather with attractive stitching, chrome controls for the vent windows, power window switches and angled armrests that fit just right. Behind the comfortable cabin, a nicely finished trunk borrows the top's tan color. Finished to the highest standard, every detail of this interior is ready for show.
There is an impressive amount of documentation included in the sale of this Continental. For starters there are no less than four manuals printed by the Ford Motor Company that cover everything from service bulletins to the Warner Gear Division overdrive is impressive detail. Any questions one may encounter while servicing this car is likely covered in one of these books. If not, the Lincoln Continental Owner's Club restoration guide is the next best thing. Covering everything from correct finishes for each part to tech tips picked up through generations of ownership, the book's scope is amazing. As a high end restoration, there is a huge pile of build pictures, receipts and notes as well as accolades the completed car claimed which include:
1982 – AACA Senior Award
1982 – AACA Preservation Award
1982 – AACA 1st Place National Fall Meet: Stone Mountain, GA
1982 – Best Primary Postwar Continental, Ford Motor Company Award: LCOC Eastern National Meet
1988 – 1st Place: Classic Car Club of America National Fall Meet
Today, this is an incredible example of a car that was a work of art to begin with. Edsel Ford's original vision remains intact through the detailed V12, three-speed transmission and long list of luxury appointments. Restored to and celebrated on the highest levels, this award-winning Lincoln would be the perfect addition to any serious collection. If there's room in your garage, don't hesitate to fill it with this amazing 1948 Lincoln Continental convertible.
Basic
Year

1948

Make

Lincoln

Secondary Make

n/a

Model Name

Continental

Secondary Model

n/a

Vehicle Type

Passenger Car

Hobby Segment

Classic

Mileage

85381
Engine / Transmission
Engine Type

Gasoline

Engine Size

292 Flathead 12

Engine Number

n/a

Heads

Stock

Fuel Specification

n/a

Fuel Delivery System Type

n/a

Transmission Type

3 Speed Manual

Transmission Spec

n/a

Transmission Number

n/a
Misc
Entertainment System Type

AM Radio

Battery Location

RH Engine Compartment

Battery Shut Off

n/a

Battery Charger

n/a

Power Steering

No

Air Conditioning

Yes
Interior
Interior Color

Black

Seating Type

Bench

Seat Material

Leather

Shifter Type

Column

Center Console

No
Body
Body Style

Convertible

Doors

2

Body Color

n/a

Paint Type

Lacquer

Stripes

No
Chassis
Front Suspension Type

n/a

Rear Suspension Type

n/a

Axle Specification

n/a

Front Wheel Specification

n/a

Rear Wheel Specification

n/a

Front Tire Specification

n/a

Rear Tire Specification

n/a

Front Brakes Specification

n/a

Rear Brakes Specification

n/a

Spare

n/a

Exhaust Type

n/a

Muffler Type

n/a
History
Restoration Status

Restored

Mileage Since Restoration

n/a

Awards Summary

AACA Senior award, AACA preservation award '82; 1st place Classic Car Club of America National Judging Award '88; AACA 1st place National Fall Meet, Stone Mountain, GA '82; Best Primary Postwar Continental, Ford Motor Company Award, Lincoln Continental Owner's club, 1982 Eastern National Meet, Hershey, PA.

Historical Documents Summary

Restoration receipts; restoration photos; Original Service Manual; Original Service Bulletins; Authenticity Manual; Original Parts Catalogue; Overdrive unit manual; Custom printed post cards
Contact Us Regarding this Vehicle
Call Us
704.596.5211
704.596.5980