Trade-In a Vehicle

Close

As one of the largest classic car dealerships in the world, we are always look for new inventory. If you are interested in trading your high quality car for one of ours, simply fill out this form and click Submit.

Rear End

Brakes

Underside

Please Note: All sales transactions involving trade-in vehicles are based on Certified pricing with a Seal of Approval service level.

TCO

Close

Total Cost of Ownership Calculator

Your Price

$49,900

Select Shipping Option

This item can be collected at

Select Shipping Container Options:

Dedicated 20 ft Container
Shared 40ft Container

Select Destination Port:
1939
Joe Shaheen Midget Racer
AACA Grand National Champ Trophy Winning Midget Racer
Stock #

132839

Body Style

Roadster

Engine

n/a

Exterior Color

Black

Interior Color

Saddle

Miles

501
$49,900
A

B

C

D

E

F

G

H

I

J

K

L

M

N

O

P

Q

R

S

T

U

V

W

X

Y

Z
Did You Know
?
1970 marked the first time in the four-year history of the Camaro that a convertible option was not offered.
Test your car knowledge!
See Also
these cars might interest you
See Comparable
recent sales
View hi-res image
Play Slideshow
Previous
Next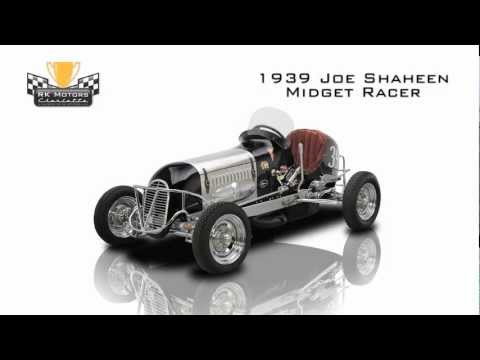 5-time AACA award winner
Aluminum body
1 of 2 built
Modified Flathead V8
Restored circa 1998
Fully documented
Restored vintage race cars are hard to find. Restored vintage race cars that are AACA certified and have won five AACA awards, including the very prestigious President's National, are almost non-existent. This 1939 Joe Shaheen Midget Racer is the product of a little luck and a whole lot of hard work. After sitting untouched for almost half a century it underwent a no holds barred six year restoration, using mostly rebuilt original parts, to once again become a 100% correct track ready race car. Today with over 100 dirt and asphalt victories, four track championships and five significant AACA awards under its belt, this one of a kind Midget is the perfect car for any collector who likes to win big and make history!
Built in 1939 by Herman Kluge and Nick Kish, this remarkable little car was one of two look-alikes created for a Springfield, Illinois native by the name of Joe Shaheen. At the time, Illinois was a hotbed for Midget racing and Shaheen decided to campaign number 29 and 39 cars to promote the 2939 phone number to his Midget supply and tire business. The 39 car was raced with a stock 60 horsepower flathead V8 until 1939 and then put into storage until after the World War II. When brighter days dawned in 1946, Shaheen commissioned the same two builders to completely refurbish the car into a 200+ horsepower, reversed engine speedway terror. Shaheen, who had once driven the car but was presently pre-occupied with his newly minted Springfield Speedway, campaigned the 39 for whatever driver needed a ride. And over the next six years top notch drivers which included Rex Easton, Harry Meyers, Chuck Weyant, Gene Weyant, Steve Orme and Chuck Marshal, who at one time won six features in one week, would establish it as the most dominant force in the sport. In 1951 Shaheen sold the car to an owner/driver who had intentions of restoring it, but unfortunately the car sat in a basement for almost 50 years. Finally, in 1997, it was re-discovered and brought back to the pristine condition you see here.
The idea behind any successful race car body is simple: find a lightweight material, stretch it into a slippery shape, and cover it with visual sizzle which looks good from the stands and intimidating in the mirror. After sitting in a basement for close to 50 years, the innovative, all-aluminum body on this Midget Racer wasn't that appealing, but the amount of money and labor involved in restoring it was certainly intimidating. When all was said and done, the owner spent over $30K and countless hours straightening and perfecting every inch of the aluminum from the louvered belly pan to the domed nosepiece. And when the body was finally up to par, circa 2002, period correct Mercedes Black enamel was laid under period correct white lettering to create a 100% correct Shaheen paint scheme. Today with every surface painted, chromed or finished, the car has been judged by AACA, scrutinized by previous drivers and authenticated by historical documentation as a 100% correct restoration of a racing icon.
At the front of the car, a chrome V-shaped grille guard centers a semi-gloss Cast Blast Aluminum grille between an AACA 2010 Grand National Winner First Prize plaque and an AACA 2004 Senior National First Prize Winner plaque. Behind that grille guard, a custom fabricated three piece aluminum hood hangs functional louvers and leather latches above custom fabricated bubbles which widen the engine compartment just enough to clear the big Ford heads. When the car originally debuted in 1939, it wore a body-matched hood that was covered in smooth Mercedes Black paint. However, after World War II it was rebuilt with this engine and the resultant custom hood was never painted. So, for the sake of authenticity the restorer chose to simply revitalize the hood and leave the car in its 1940s guise. At the center of the car, a clear and crack-free plexiglass windshield stands above vintage decals and right side only "Joe Shaheen Midget Supply & Tires" lettering. And at the back of the car, a vintage fuel cap is recessed in a tapered body which hangs large "39"s in front of a chrome push bar.
The heart of this awesome racer is a mean sounding 136 cubic inch Ford 60 flathead V8 which has been modified to produce in excess of 200 horsepower. Bored .150 over, equipped with an external oil pump and completely reversed to reduce heat build-up inside the block, this revolutionary powerplant dominated tracks across Illinois in the hands of many well-known drivers. Just below the aluminum hood, two 1-barrel Stromberg 81 carburetors are centered on top of a custom intake manifold which is equipped with two custom stainless collectors that exit through the right side of the hood and merge into one large straight pipe. At the front of the engine, a beefy radiator sends water through a combination of correct hoses, correct clamps and correct tubes while a correct belt spins a generator pulley that has been fabricated into a heavy duty tensioner. At the sides of the engine, finned heads hold custom intake tubes and correct plug wires above the cars red block; and at the back of the engine, stainless fuel lines snake out of the cars aluminum firewall just above a red oil filler tube. Rebuilt in 1998 and driven less than 500 miles since, this stalwart flathead sits in a fully detailed engine compartment that, like the rest of the car, has been completely restored and fully sorted all the way down to its new wiring.
The bottom of this Midget is every bit as impressive as its engine bay and features everything from correct semi-gloss Cast Blast Aluminum frame rails to a fully chromed suspension. And by the looks of things, the guys who originally built the car really knew their way around the track AND the parts yard. Power from the flathead V8 is fed directly into a custom in/out transmission which can be slid back on the torque tube to quickly change the cars gear ratio. That eager transmission is hooked to a custom driveshaft which spins a Ford Model A pickup rear end that is held off the ground by a chromed Model T cross spring and Houdise lever shocks. Turns come courtesy of a chromed and externally mounted steering bar which is hooked to an adjustable front suspension that utilizes both chromed semi-elliptical springs and friction shocks. Braking is provided by a large hand lever which prompts a small body-mounted reservoir to send hydraulic fluid through stainless tubes to rear mounted drums. And safety is enhanced by a front skid which ensures the car will slide to a stop if the right front tire comes off, and rear safety wires which ensure the cars tire guards won't mar and cause it to flip in the event of a broken bolt. Currently, the car rides on original wheels, which have been re-chromed for show, and 1950s era 4×12 front and 4.5×12 rear tires. The lucky buyer will also receive a set of freshly painted red wheels and modern tires that are perfect for logging track time and rolling through parades as well as a few different sets of gears which can be adapted to different tracks.
The cockpit of this cool vintage racer is a combination of all-business vitals and lightweight simplicity which carried legendary drivers of the 40s to an adrenaline fueled limbo between breakneck speed and crude safety. Lift off the cars thick leather cowl, hunker down into its pleated leather seat and clasp the vintage seatbelt across your legs. At your sides, perfectly matched and stitched brown leather padding flows up and out of the cockpit to snap tightly over a vintage fuel filler. And in front of you, a large diameter steering wheel presents both tightly bound leather wrapping to aid your white-knuckle grip, and a brown leather center pad to quell any of your last minute safety concerns. As you become more acquainted with the car, your right arm reaches below your right leg to disengage the safety springs on the transmission lever, and the in/out box locks into its only forward gear. Committed and ready, your eyes move to the burnished and leather trimmed aluminum dash where a simple flip of the vintage ignition switch sparks the coil to life. More confident by the second, you decide that it's time to get this show on the road; and 60 years ago when this car first roamed the tracks, you're hands would've already been hard at work pumping the manual fuel pump to pressurize the rebuilt mechanical fuel pressure gauge. But today, thanks to modern technology, a simple flip of a simple chrome toggle switch sends power from a retrofitted and hidden battery to a smooth sounding electronic pump which pressurizes a modern, hidden gauge. With clenched jaw and all systems go, it's time for your best gearhead buddies to give you a swift push and bring the car to life. Without hesitation, the big flathead V8 lights into an 8 cylinder symphony and begins to spin the custom made and chrome covered driveshaft below your seat. Now determined, and at the same time addicted, all that's left for you to do is stand on the hooked aluminum gas pedal, monitor the rebuilt mechanical water temperature and oil pressure gauges via the original Model A dash light, and chase victory through the offset plexiglass windshield! Naturally, this car's laps at vintage events aren't the full-bore, all or nothing fisticuffs it dominated almost 70 years ago, but the adrenaline and pride felt by its driver is all the same.
Included with this sale is a binder that's full of historical documentation, historic track photos, a certification from the drivers who raced the car, a Springfield Speedway 40th Anniversary program which mentions the car extensively, pictures and information from the cars restoration, a small display board, a copy of Member's Parade magazine in which the car was cover featured, a copy of the cars feature article from Vintage Oval Racing, a 2010 appraisal which pegged the cars value at $72K, and a vintage racing helmet.
As a rare and significant piece of automotive history, this midget racer has racked up many awards which include:
• 2004 AACA First Junior in Asheboro, North Carolina
• 2005 AACA Senior Award in Gainesville, Florida
• 2006 AACA President's National Award in Philadelphia, Pennsylvania
• 2007 AACA Preservation Award in New Bern, North Carolina
• 2010 AACA Preservation Award in Charlotte, North Carolina
Restored true to form, it has appeared at the following tracks:
• Winchester Speedway in Winchester, Indiana
• Indianapolis Raceway Park in Indianapolis, Indiana
• New Smyrna Speedway in New Smyrna Beach, Florida
• Eldora Speedway in Greenville, Indiana
• Darlington Motor Speedway in Darlington, South Carolina
• Zephyrhills Speedway in Zephyrhills, Florida
• Salem Speedway in Salem, Indiana
From its slick aluminum body to its flathead V8 engine, this 1939 Midget Racer is a completely sorted show stopper that's ready to hit the track today. With a storied past, an unbelievable AACA record and a high quality six year restoration, it combines immeasurable historical significance with unbeatable value. Don't miss your opportunity to own a fully functional piece of racing history!
Basic
Year

1939

Make

Joe Shaheen

Secondary Make

n/a

Model Name

Midget Racer

Secondary Model

n/a

Vehicle Type

Other

Hobby Segment

Competition Car

Mileage

501
Engine / Transmission
Engine Type

Gasoline

Engine Size

n/a

Engine Number

n/a

Heads

Stock

Fuel Specification

92/93 Octane

Fuel Delivery System Type

Dual Single Barrel

Transmission Type

Direct Drive

Transmission Spec

n/a

Transmission Number

n/a
Misc
Entertainment System Type

No Radio

Battery Location

Under driver's seat

Battery Shut Off

None

Battery Charger

None

Power Steering

No

Air Conditioning

No
Interior
Interior Color

Saddle

Seating Type

Bucket

Seat Material

Leather

Shifter Type

Floor

Center Console

No
Body
Body Style

Roadster

Doors

n/a

Safe Body Color

Black

Paint Type

n/a

Stripes

Yes
Chassis
Front Suspension Type

Leaf Spring

Rear Suspension Type

Leaf Spring

Axle Specification

n/a

Front Wheel Specification

n/a

Rear Wheel Specification

n/a

Front Tire Specification

n/a

Rear Tire Specification

n/a

Front Brakes Specification

Drum

Rear Brakes Specification

Drum

Spare

n/a

Exhaust Type

Single Exhaust

Muffler Type

n/a
History
Restoration Status

Restored

Mileage Since Restoration

n/a

Awards Summary

AACA Grand National – 2010
Rex Eastons Trophy from the late 40s
AACA Mueseum award – Trophy displayed in Hershey, PA

Historical Documents Summary

Certification from drivers. Historic track photos Chuck Marshall won 6 features in one week with this car - Photo included. Restoration photos
Contact Us Regarding this Vehicle
Call Us
704.596.5211
704.596.5980