Trade-In a Vehicle

Close

As one of the largest classic car dealerships in the world, we are always look for new inventory. If you are interested in trading your high quality car for one of ours, simply fill out this form and click Submit.

A member of our sales department will be in touch within 24 hours. No one makes the trade-in process easier than RK Motors Charlotte.

Required fields are marked with *

Additional info / Trade in Goals:

Please Note: All Sales Transactions involving trades are limited to a Basic Safety Exit Service.
Service Programs is only available on full price, straight purchase transactions.
1963
Chevrolet Impala SS
Private collection Not For Sale
Legendary Junior Johnson Impala SS RPO Z33 Mk II 427
Stock #

132954

Body Style

Hardtop

Engine

Z33 Mk II 427 V8

Exterior Color

White

Interior Color

Blue

Miles

14109
PRICING WITH:
See Also
these cars might interest you
See Comparable
recent sales
View hi-res image
Play Slideshow
Previous
Next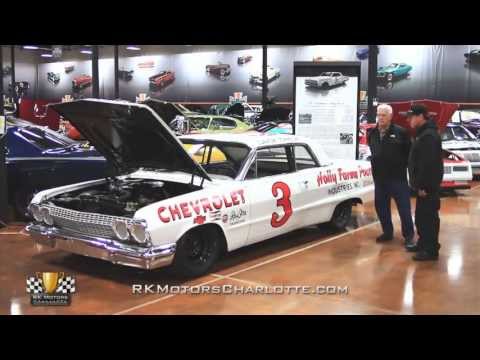 Robert Glenn Johnson, Jr., better known as Junior Johnson is a name that needs little introduction to the racing community. A member of the Inaugural class of the NASCAR Hall of Fame, inducted on May 23, 2010, Junior Johnson was also named one of Nascar's 50 Greatest Drivers in 1998. As a driver, Junior Johnson claimed 50 victories, the most ever for a driver that did not win a NASCAR points championship.
As a team owner, he worked with some of the legendary drivers in NASCAR history, including Darel Dieringer, LeeRoy Yarbrough, Cale Yarborough, Bobby Allison, Darrell Waltrip, Neil Bonnett, Terry Labonte, Geoffrey Bodine, Sterling Marlin, Jimmy Spencer, and Bill Elliott. In all, his drivers won 139 races, which is third only to Petty Enterprises and Hendrick Motorsports. His drivers won six Winston Cup Championships—three with Yarborough (1976–1978) and Waltrip (1981–82, 1985).
Behind the statistics and numbers, however, lies the real story of why Junior Johnson is a true legend of NASCAR and is loved by racing fans across generations. Named "The Last American Hero" by famed author Tom Wolfe in the March, 1965 issue of Esquire Magazine, Junior rose to prominence during the era of racing when guts and ingenuity determined the winners and losers, rather than who had the most money to spend. America fell in love with the automobile in the 1950's and by the early 1960's, all of the automakers had discovered that America loved going fast!
This 1963 Chevrolet Impala, which is owned by RK Motors Charlotte and maintained as part of our private collection, is THE legendary Ray Fox/Junior Johnson/Holly Farms #3 NASCAR which won seven Grand National Events in 1963, including the Charlotte, NC race held on 10/13/63.
During Junior Johnson's miracle 1963 racing season, Johnson set a speed record at Daytona and led nearly every race during the season. He couldn't be outrun and the other drivers could only hope that he dropped out of the race due to mechanical failures. The most amazing aspect of Johnson's 1963 season was that Chevrolet pulled all of their money from racing sponsorships at the onset of the 1963 season. Ray Fox and Junior Johnson were forced to fabricate parts on their own and were able to compete and win against the factory sponsored Pontiac, Plymouth, Dodge and Ford teams.
There is much confusion and misinformation about the car which Junior ran in 1963. The car has been called a Z11, which it was not. It is a 1963 Chevrolet Impala Super Sport. What makes this car unique and explained its performance on the track is the incredibly rare RPO Z33 Mk II 427 "mystery motor", supplied by Chevrolet. Designed by Richard L. Keinath, the Mk II was the missing link between Chevy's Mk I 348/409 engine and the Mk IV 396 V-8 introduced in 1965. (The Mk III was an ultra-big-block project, stillborn.) The Mk II's short-block used the same 4.84-inch bore spacing as the 348/409, and its 4.31-inch bore and 3.65-inch stroke were identical to those of the 427ci Z11 version of the 409. However, the cylinder heads employed valves canted in two planes, just like in the "porcupine" engines that would appear a few years later.
On January 21, 1963, barely days after Yunick and the other four Chevy factory-supported teams received their final engine packages and only a few weeks before Daytona, General Motors Chairman Fred Donner ordered all divisions to shut down their racing programs effective immediately. The Mk. II V-8 was marooned. Some sources say 42 engines were produced before the plug was pulled; others claim as few as 18.
Dyno test results on this engine show that is produced somewhere between 600-650 HP, which gave the Z33 powered Chevrolets a significant advantage over their competitors during the 1963 season.
The engine in this 1963 Chevrolet Impala is the exact same engine that was in the car at the close of the 1963 season. The engine and the car were banned from NASCAR before the onset of the 1964 season and the Impala disappeared into a barn.
This Impala is in "as-raced in 1963" condition and has received no modifications since 1963, other than a replacement alternator and carburetor (the original Holley was stolen).
RK Motors Charlotte is honored to be the custodian of the vital piece of racing history and plans to do a complete analysis of the car over the coming months, as we analyze, with the assistance of Junior Johnson himself, exactly how a NASCAR was prepped and campaigned during the early years of the sport.
Basic
Year

1963

Make

Chevrolet

Secondary Make

n/a

Model Name

Impala

Secondary Model

SS

Vehicle Type

Passenger Car

Hobby Segment

Competition Car

Mileage

14109
Engine / Transmission
Engine Type

Gasoline

Engine Size

Z33 Mk II 427 V8

Engine Number

n/a

Heads

Stock

Fuel Specification

n/a

Fuel Delivery System Type

n/a

Transmission Type

3 Speed Manual

Transmission Spec

n/a

Transmission Number

n/a
Misc
Entertainment System Type

n/a

Battery Location

n/a

Battery Shut Off

n/a

Battery Charger

n/a

Power Steering

No

Air Conditioning

No
Interior
Interior Color

Blue

Seating Type

Bucket

Seat Material

Vinyl

Shifter Type

Floor

Center Console

No
Body
Body Style

Hardtop

Doors

2

Safe Body Color

White

Paint Type

n/a

Stripes

No
Chassis
Front Suspension Type

n/a

Rear Suspension Type

n/a

Axle Specification

n/a

Front Wheel Specification

n/a

Rear Wheel Specification

n/a

Front Tire Specification

n/a

Rear Tire Specification

n/a

Front Brakes Specification

n/a

Rear Brakes Specification

n/a

Spare

n/a

Exhaust Type

n/a

Muffler Type

n/a
History
Restoration Status

n/a

Mileage Since Restoration

n/a

Awards Summary

n/a

Historical Documents Summary

n/a
Contact Us Regarding this Vehicle
Call Us
704.596.5211
704.596.5980