Trade-In a Vehicle

Close

As one of the largest classic car dealerships in the world, we are always look for new inventory. If you are interested in trading your high quality car for one of ours, simply fill out this form and click Submit.

Rear End

Brakes

Underside

Please Note: All sales transactions involving trade-in vehicles are based on Certified pricing with a Seal of Approval service level.

TCO

Close

Total Cost of Ownership Calculator

Your Price

$55,900

Select Shipping Option

This item can be collected at

Select Shipping Container Options:

Dedicated 20 ft Container
Shared 40ft Container

Select Destination Port:
Frame Off Restored Biscayne 409/425 Dual Quad 4 Speed
Stock #

132573

Body Style

Sedan

Engine

409 V8

Exterior Color

Red

Interior Color

Red

Miles

50547
$55,900
A

B

C

D

E

F

G

H

I

J

K

L

M

N

O

P

Q

R

S

T

U

V

W

X

Y

Z
Did You Know
?
1970 marked the first time in the four-year history of the Camaro that a convertible option was not offered.
Test your car knowledge!
See Also
these cars might interest you
See Comparable
recent sales
View hi-res image
Play Slideshow
Previous
Next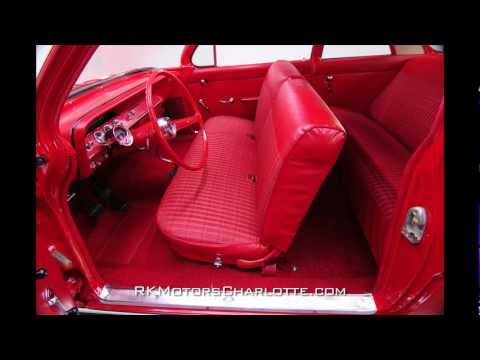 Frame-off restoration
3.73 final gears
Built 409cid V8
Cardinal Red
Muncie M21 4-speed
Extensive documentation
Thanks to its simplicity and heavy duty big car hardware, the Chevrolet Biscayne was the ideal foundation for a killer sleeper with monster horsepower. But since these cars were originally built as low-cost, no-frills transportation, they were often underappreciated. However, like all cars that share the basic virtues of good design and big horsepower, collectors simply can't ignore them any longer. Just last month we sold a matching numbers '62 409 equipped Biscayne just like this one for $75K!
With a built big block 409, a slick shifting Muncie M21 wide ratio 4-speed transmission and stout 3.70 gears, this fully restored 1962 Biscayne features one hell of a powertrain in an unassuming red wrapper. Produced at GM's Atlanta Georgia assembly plant, this car was originally a black 6 cylinder car that was brought north by a hobbyist, for the purpose of building a lightning fast 409 4 speed Biscayne. Miles on the car are actual and all body panels are original! Thanks to a recent high quality frame off rotisserie restoration, those straight panels display better than factory alignment and a new coat of red Dupont paint that has been buffed to an incredible shine.
At the front of the car, a body width stainless grille is stamped with black "Chevrolet" script and houses correct T3 headlights above clear factory marker lights. At the edge of the hood, a great looking chrome Chevrolet emblem features a gold bowtie centered between red and white inlays. Below the grille, a wrap-around chrome bumper houses a cool ridged center section and displays a showroom quality shine. At the sides of the car, small Chevrolet crossed flag emblems with discrete "409" insignias combine with chrome rear fender mounted "Biscayne" emblems to provide identification. And chrome door handles sit above stainless rocker spears to add a little flash to the sea of red paint. At the top of the car, an awesome curved windshield is flanked by well-maintained stainless trim, cleared by bright stainless wipers and along with the rest of the cars glass, presents well. Out back, four traditional chrome trimmed Chevrolet tail lights sit above another show worthy chrome bumper that features a matching ridged center section. On the trunk lid, a second chrome Chevrolet emblem houses the same gold bowtie, and pristine inlays as the hood emblem and sits above a perfectly centered chrome "Chevrolet" script. Despite the blazing red paint and subtle emblems, this car will likely stay under the radar until you crack open the dual quad big block and start handing out the beatings.
Take one look under this cars red hood and you'll realize that it was built to do only one thing: go fast. Dyno tested at 429 horsepower and 453 lb./ft. of torque, this Biscaynes 1963 dual quad 4-speed QB 409 has been bored .030 over by the experts at Crown Speed Equipment in Meadville, Pennsylvania and now clocks in at a respectable 474 cubic inches. At the top of the engine, a correct dual snorkel air cleaner wears smooth satin black paint and a proper AC decal. Below that air cleaner, two correct 1962 dated Carter 4 barrel carburetors send fuel from stainless fuel lines to a 1963 dual quad aluminum intake. At the sides of that intake, highly sought after 1962 690 heads wear distinctive satin silver valve covers with correct "409 Turbo Fire" decals and have been rebuilt with solid lifters, titanium push rods, roller rockers and stainless steel valves. Inside the engine, a Competiton camshaft sits above a Scat 454 crankshaft which turns Eagle H-beam rods with Ross forged pistons to create a stout 10.5 to 1 compression ratio. At the back of the engine, an MSD distributor sends power from a painted MSD coil to correct AC Delco Packard Suppression wires. At the sides of the engine, correct factory exhaust manifolds sit behind a correctly tagged Delco generator that is turned by a fresh V-belt. In front of the engine, a heavy duty four core radiator sits beside a correct reproduction Delco battery and circulates water through fresh black hoses. All the details were completed well during the cars restoration with a thick coat of Chevrolet Orange paint covering the engine and fresh coat of GM satin black covering the inner fenders and radiator support. The car even has correct gold hood springs and a Sun Tach transmitter box on its driver's side inner fender.
Backing up that professionally built big block is a late year 1963 Muncie M21 wide ratio 4-speed transmission. Bolstered by a new externally balanced 454 flywheel and a Centerforce clutch disc, pressure plate and throwout bearing, that transmission sends power to a correctly tagged Posi-traction rear end with stout 3.70 Richmond gears. During the restoration the cars original double A-arm front and 3 link rear suspension was completely rebuilt and features new polygraphite bushings along with the cars original manual steering box. Braking is handled by factory correct manual drums at each corner and exhaust flows through a 2.5 inch true dual system that is complete with stainless steel pipes and Flowmaster dual chamber mufflers. Above the suspension rust free floorpans are sprayed in satin black paint and all lines, hoses, brackets and fasteners, which were completely replaced at the time of restoration, show little to no weathering. At the corners of the car, 14 inch steel wheels feature the same red paint as the cars body and wear standard black detailed Chevrolet hubcaps and 8.00-14 BF Goodrich Silvertown tires that turn into expensive blue smoke with just a twitch of your right foot.
The interior might be considered Spartan by today's standards, but there is something to be said about its well-executed simplicity. The front and rear seats wear correct red vinyl and cloth Biscayne seat covers that match the clean red carpet and tight red headliner perfectly. In front of the seats, a painted red dash holds a horizontal speedometer, a fuel gauge and a temperature gauge above thin stainless trim and chrome knobs for the cars accessories. Mounted to the side of the red steering column is a cool MoonEyes Sun Tach which looks so natural that most casual observers might think it's an OEM piece. During the restoration, some modern and tasteful modifications were made to enhance both the look of the interior and the driving experience provided by the car. A modern Alpine AM/FM cassette player is hidden in the stainless tissue box below the passenger's side of the dash to allow the car to keep its correct radio delete appearance. That Alpine unit sends sound through nice Kenwood speakers that have been mounted discretely under the dash in the cars kick panels. Hanging under the center of the dash is pair of new Autometer gauges that keep a close eye on the built motors water temperature and oil pressure. And just behind those gauges, a chrome spaghetti shifter is topped by a white cue ball and does a good job of dodging the bench seat. Behind the cockpit, a fully restored trunk features correct spatter paint, correct trunk mats and a correct spare tire on a correctly painted red wheel.
Documentation for this Biscayne includes an owner history that dates to 1986, a reproduction owner's manual, a 1961 model shop manual, a 1962 model shop manual, before, during and after restoration photos, fabric sample pieces for the interior, and a stack of restoration receipts which include a complete breakdown of the professional engine build, a cam card, a wiring diagram and an official dyno sheet.
One of the most potent machines of the early '60s, this Chevrolet Biscayne is the ideal combination of a lightweight, unassuming body and sheer muscle. Few cars could stay with a 409 powered Biscayne when new, and few collector cars today can eclipse its status as one of the baddest street bruisers to ever wear a Chevrolet bowtie. Whether you're interested in a high-performance Chevrolet, a killer sleeper, or a vintage race car, this 1962 Biscayne has it all. Call today!
Basic
Year

1962

Make

Chevrolet

Secondary Make

n/a

Model Name

Biscayne

Secondary Model

n/a

Vehicle Type

Passenger Car

Hobby Segment

Muscle Car

Mileage

50547
Engine / Transmission
Engine Type

Gasoline

Engine Size

409 V8

Engine Number

n/a

Heads

Stock

Fuel Specification

n/a

Fuel Delivery System Type

Dual 4 Barrel

Transmission Type

4 Speed Manual

Transmission Spec

Muncie M21

Transmission Number

n/a
Misc
Entertainment System Type

AM/FM Cassette

Battery Location

RH Engine Compartment

Battery Shut Off

n/a

Battery Charger

n/a

Power Steering

No

Air Conditioning

No
Interior
Interior Color

Red

Seating Type

Bench

Seat Material

Vinyl Cloth

Shifter Type

Floor

Center Console

No
Body
Body Style

Sedan

Doors

2

Safe Body Color

Red

Paint Type

n/a

Stripes

No
Chassis
Front Suspension Type

Double A-arm

Rear Suspension Type

3-Link

Axle Specification

n/a

Front Wheel Specification

14x6" Steel

Rear Wheel Specification

14x6" Steel

Front Tire Specification

8.00-14

Rear Tire Specification

8.00-14

Front Brakes Specification

Drum

Rear Brakes Specification

Drum

Spare

8.00-14

Exhaust Type

Dual Exhaust

Muffler Type

FlowMaster
History
Restoration Status

Restored

Mileage Since Restoration

n/a

Awards Summary

n/a

Historical Documents Summary

Some restoration photos. Owner's manual (reproduction) Shop Manual, Restoration receipts, receipt for engine build.
Contact Us Regarding this Vehicle
Call Us
704.596.5211
704.596.5980